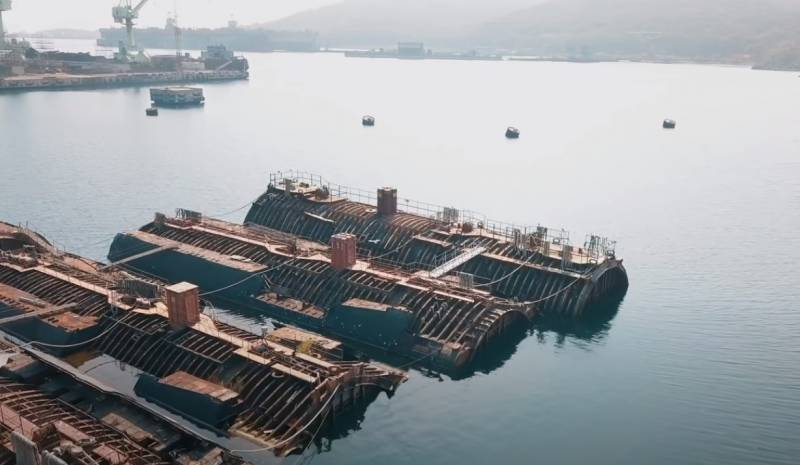 Saida Bay became a symbol of the loss of the enormous potential of the Soviet underwater
fleet
... It was here, along with other production sites, that dozens of nuclear submarines that Russia inherited after the collapse of the USSR were cut. As reported on November 30 at a special workshop, out of 206 nuclear submarines that have been disabled since 1986, 199 have been dismantled.
The Premier League was cut, but the Curies were down
This work was generously sponsored by foreign "partners". The USA, France, Britain, Germany, Italy, Japan, Norway and Sweden allocated their funds for the elimination of Russian submarines. Many nuclear submarines were in urgent need of dismantling, posing a threat to the environment: a number of ships lay on the ground long ago and presented a radiation hazard.
Over the period from 2004 to 2020, the total accumulated activity in the Arctic decreased from 11,1 to 5,09 million Curies
- summed up in the Russian Federation the results of their work on cutting nuclear submarines.
The massive write-off of submarines in the post-Soviet period led to a sharp reduction in the submarine fleet. The refusal to build new ships led to the degradation of the production base and the loss of competencies by shipyards. But not only Russia has lost a significant part of its combat potential and industrial capacity, including nuclear submarines and shipyards.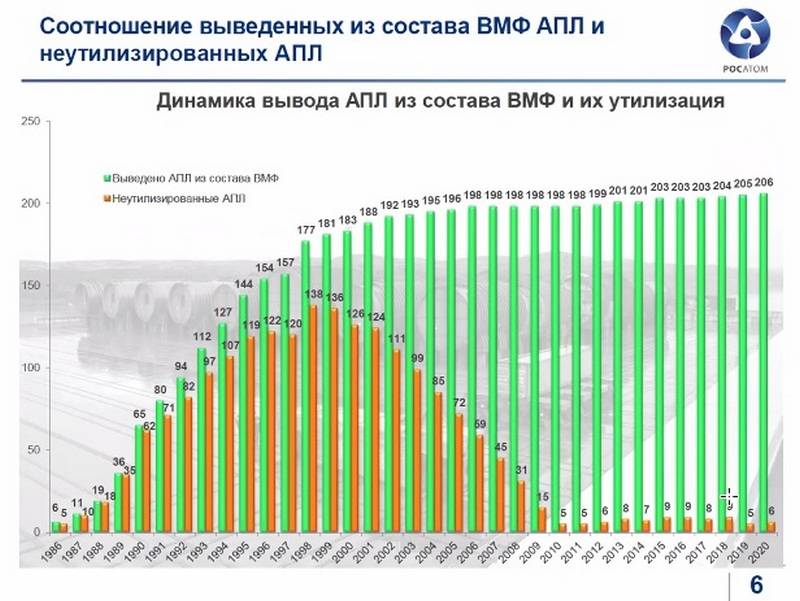 Source: Rosatom
Degradation of American potential
Today, the US Navy has 50 attack submarines, compared with about a hundred at the end of the Cold War [...] Despite the reduction in the number of SSN [attack submarines] by half, the infrastructure for their maintenance and support has shrunk even more: today the Navy has only [...] four state shipyards compared to 11
- told about the problems Rear Admiral Blake Converse, commander of the Pacific submarine forces of the US Navy.
He is deeply concerned about the Navy's ability to carry out maintenance on remaining U.S. facilities and at expedition sites, especially if the attack submarine fleet grows in the coming decades, as the Pentagon has announced. In his words, without taking emergency measures, this will cause extremely serious consequences:
Without targeted action taken today, this will lead to a crisis.
Against the background of the degradation of the fleets and shipbuilding of the former main geopolitical rivals, the process of the formation of powerful naval forces and a developed industrial base in the Asia-Pacific region has come to an end. New players entered the scene in the form of China, Japan and South Korea. Australia is to join the Major League soon.