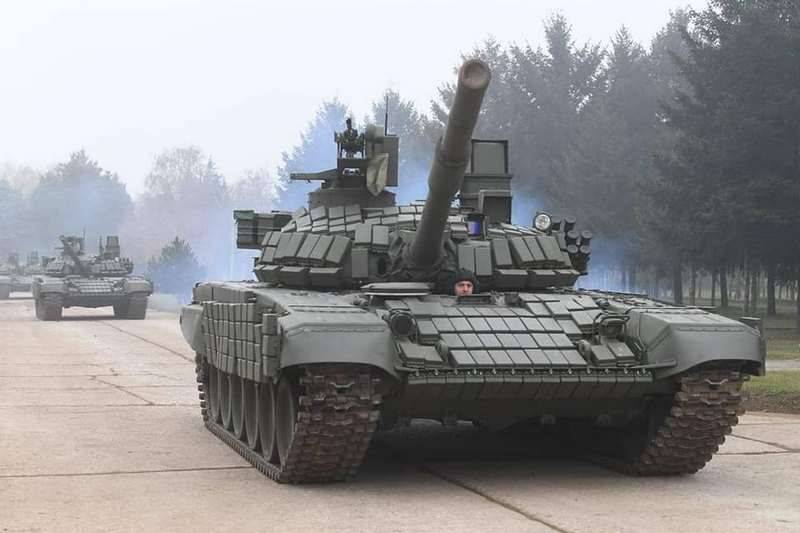 Serbia thanked Russia for the handed over to the Serbian military
Tanks
T-72MS. The words of gratitude were voiced by the President of the country Aleksandar Vucic, who stated that military equipment would help Belgrade to strengthen its combat power.
Aleksandr Vucic, along with Defense Minister Neboisha Stefanovic and Russian Ambassador Aleksandr Botan-Kharchenko, arrived at a military training ground in the vicinity of the city of Niš on Saturday, where they examined the first batch of 72 T-11MS tanks transferred to Serbia by the Russian Ministry of Defense. According to him, the head of Serbia, Russian tanks have become "significant progress for the infantry, like the previously transferred BRDM-2."
I am grateful to Russia and President Putin for helping Serbia with this donation. Today you could see 11 new T-72MS tanks. Our tankers are happy, the tanks have better protection, better control and navigation, I think this will increase the combat readiness of our armed forces
In total, Russia donates to Serbia 30 modernized White Eagle tanks from the availability of the agreement on military-technical cooperation. The first two tanks were delivered on October 28 of this year by Il-76TD transport aircraft. The unloading of aircraft was carried out at the airfield in Batajnica near Belgrade. The delivery of the remaining tanks to the country was not officially covered.
According to the bmpd blog, the modernization of the T-72B1 tanks into the T-72MS version was carried out at the 61st Armored Repair Plant JSC (Strelna, St. Petersburg).
T-72MS "White Eagle" is equipped with a round-the-clock gunner's sight PN-72 "Sosna-U", a commander's round-the-clock panoramic sight PKP-72 "Falcon Eye" using a third-generation thermal imaging camera, automatic target tracking, chassis information control system, navigation system , a new cannon stabilizer, and a remote-controlled anti-aircraft machine gun. In this case, the dynamic protection "Contact-1" is not replaced.