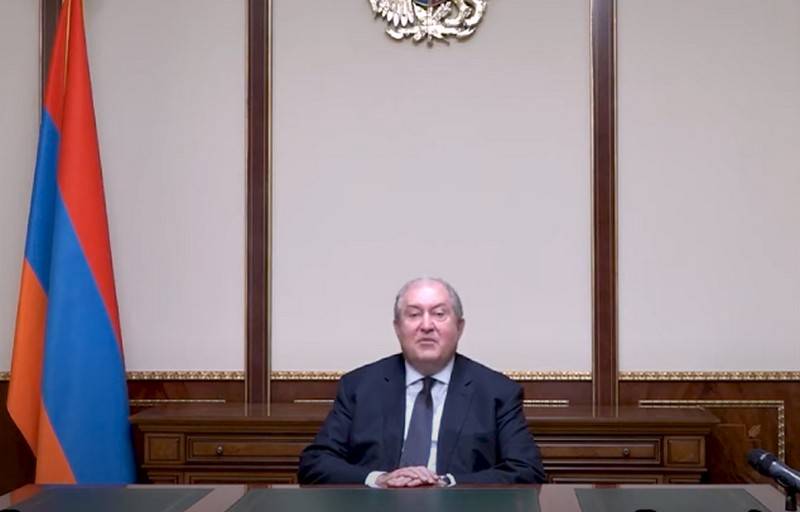 Armenian President Armen Sarkissian was called a "sham" president, who is going to take the post of prime minister, dismissing Nikol Pashinyan. Armenian media write about it.
Armenian President Sargsyan, who has been silent for two and a half years, intends to start his own game, remove a "mentally unbalanced subject" from the post of Prime Minister and bring his own team to the People's Assembly, which will defend the interests of certain circles of Great Britain and Armenia, media say.
They say that the half-hearted demand for the resignation of the prime minister and the government was important for the fake president Armen Sargsyan in terms of probing public sentiment. They also say that the president wants to get out of the existing realities "dry", as well as take part in the upcoming parliamentary elections, win and send his team to the National Assembly
- the newspaper "Irates" reports.
In turn, Armenian President Armen Sargsyan himself stated that he does not apply for the post of Prime Minister of the country. He noted that he is ready to work with any prime minister and government elected by the people.
My problem is different. I believe that I can use only 5-10% of what I can for the good of the country - because of constitutional restrictions or the closeness of my partners to cooperation ... The main reasons for this, I think, I can do much more - both on international platforms, and in the economic, investment, cultural, diplomatic sphere
- he added.
Meanwhile, half of the members of the government have changed in Armenia: six out of 12 ministers have lost their portfolios. All personnel changes were made at the suggestion of Pashinyan.