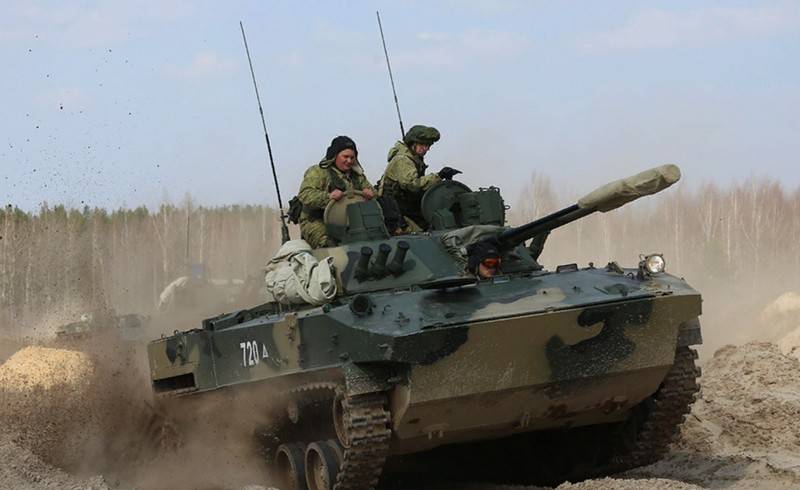 A battalion set of military equipment entered service with the mountain airborne assault division of the RF Airborne Forces deployed in the Southern Military District. This is reported by the Ministry of Defense.
According to the report, the Airborne Division received about 40 units of new armored vehicles - BMD-4M airborne combat vehicles and BTR-MDM armored personnel carriers ("Shell"). It is clarified that the combat vehicles were transferred to the airborne assault Kuban Cossack regiment of the Novorossiysk guards airborne assault formation.
These airborne combat vehicles increase the combat potential and combat power of the Airborne Forces, and in particular the combat power of your division. These samples are floating and have no analogues in their characteristics, many times lighter
tanks
and are slightly inferior to them in firepower, and in speed, maneuverability and power reserve in many ways surpass
- said the Deputy Commander of the RF Airborne Forces for Logistics Nariman Timergazin, who was present at the equipment transfer ceremony.
Prior to that, in January and June, the 234th Guards Airborne Assault Black Sea Order of Kutuzov, 3rd Class Regiment named after Saint Alexander Nevsky of the Pskov Airborne Division, received two battalion sets of equipment.
In January, the Deputy Commander of the Airborne Forces, Major General Anatoly Kontsevoy, said that in 2020 three battalion sets of military vehicles were expected to enter the formations and military units of the Airborne Forces.
The serial production of BMD-4М ("Object 960М") is carried out by JSC "Volgograd Tractor Plant", BTR-MDM ("Object 955") is made by JSC "Kurgan Machine-Building Plant" (KMZ).