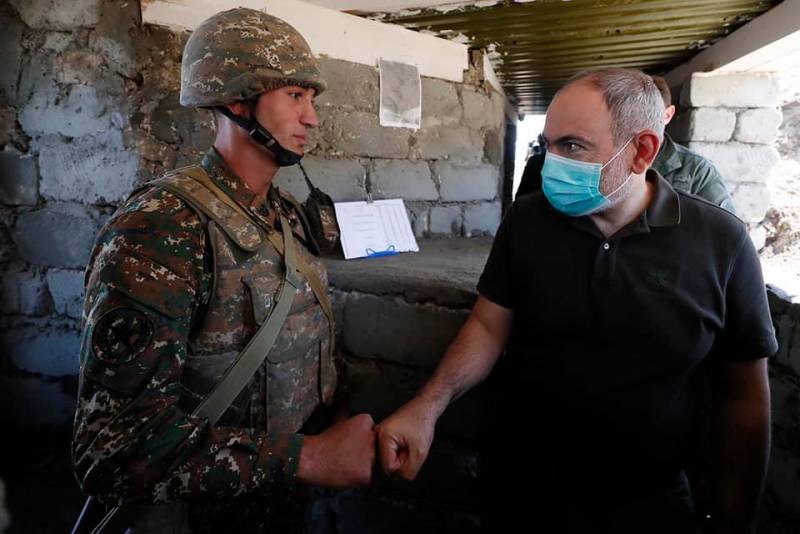 Another scandal flares up in Armenia. This time it is connected with the publication that appeared on the page of Prime Minister Nikol Pashinyan on Facebook. The prime minister, against whom rallies of many thousands are being held in Yerevan, made a post on the social network as follows:
I watched dozens of videos with soldiers at the front today. It's amazing how talented and insightful the guys are. You guys are right. I am waiting for you in Yerevan. Finally, to resolve the issue of whining under the walls. I am proud of you.
In the comments to this post, Armenian citizens, to put it mildly, assessed Pashinyan's call ambiguously. In particular, it was suggested that Nikol Pashinyan is actually calling for a civil war in Armenia.
Several comments on the note by the Armenian prime minister.

Gohar Mravyan:
A person from a parallel world, shut up and leave already! Forces are gone! But seriously, don't add yourself articles - there are more than enough of them.
Ares Shakhmuradyan:
Yes, everyone is to blame for Pashinyan, except for him, and for this it is necessary to transplant a lot of people in order to justify oneself. Maybe we should start ourselves, Comrade Pashinyan.
Naira Torosyan:
What is it? Call for civil war?
Ramzan Shaidov:
Those who howl under the walls are your people too. If these are really your words ... then it's a pity. This is not worthy of a leader's behavior.
It is noteworthy that earlier Pashinyan's note was "repost" by the vice-speaker of the Armenian parliament. But after a while, Alen Simonyan deleted his repost.
Let us remind you that the protesters in the center of Yerevan demand Pashinyan's resignation. And some also support denunciation of the agreement with Azerbaijan on Karabakh, arguing that if it were not for this agreement, "the war would have been won." It is hard to believe in this, given the situation that was developing in Nagorno-Karabakh for the Armenian troops by November 10.