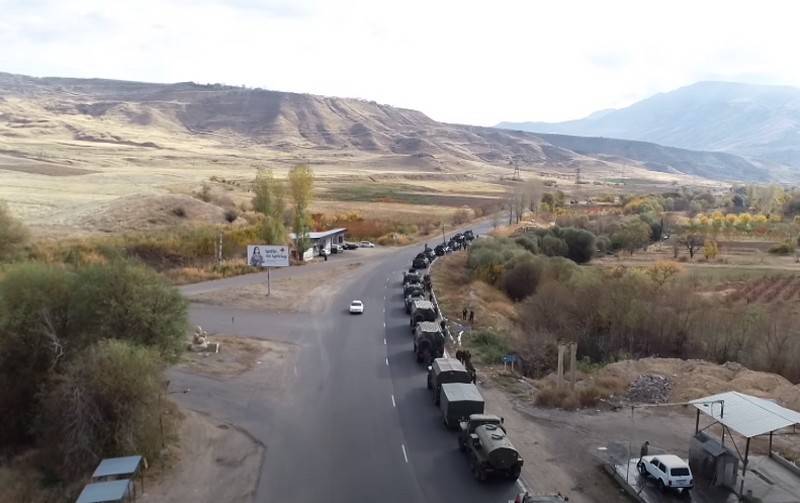 Another convoy of Russian peacekeepers arrived in the territory of Nagorno-Karabakh, entering Stepanakert. This was reported by the press service of the Ministry of Defense.
Another column of subunits of the 15th separate peacekeeping brigade, who arrived to participate in the peacekeeping operation in the zone of the Nagorno-Karabakh conflict, made a march about 100 kilometers from the concentration area in the city of Goris to the city of Stepanakert
- said in a statement.
The military department clarified that the convoys include armored personnel carriers, automobiles, and logistical supplies delivered from Russia by Il-76 VTA aircraft of the Russian Aerospace Forces. The planes land at the Erebuni airfield, after which columns are formed and advance to their destinations in Karabakh begins.
It is emphasized that the convoys are escorted by the Russian military police, and from today also by Mi-8 and Mi-24 helicopters.
As previously reported, the headquarters of the peacekeeping mission is located in Stepanakert, peacekeeping battalions are located in Stepanakert (zone "South") and Mardakert (zone "North").
To date, the peacekeepers have set up 12 observation posts in Nagorno-Karabakh, 9 of them in the "South" zone and three in the "North" zone. Five more posts will be deployed today in the northern zone of responsibility. Military police patrols began patrolling the area.
As of November 14, 12 observation posts of the Russian peacekeeping contingent were deployed in the area of ​​the peacekeeping operation along the line of contact of the sides, which are monitoring the situation around the clock. The ceasefire is respected along the entire contact line
- said the official representative of the Ministry of Defense of the Russian Federation Igor Konashenkov, adding that engineering reconnaissance and equipment of positions are being carried out in the areas of deployment of observation posts.