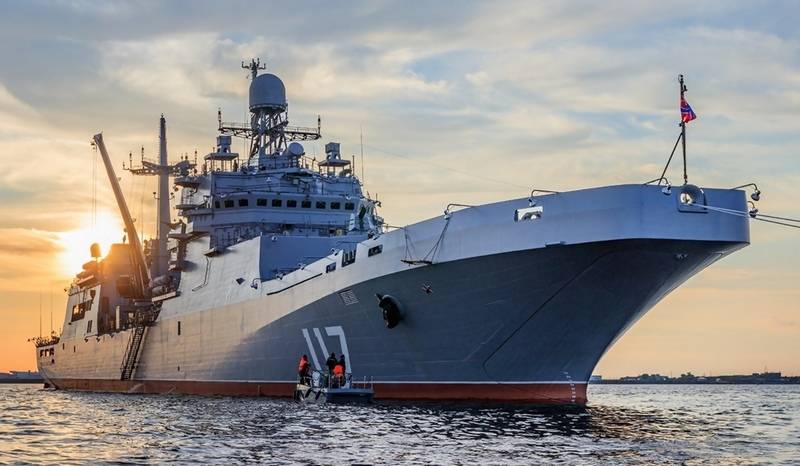 The large landing ship (BDK) "Pyotr Morgunov" of project 11711 completed the program of state tests and returned to the Baltic shipyard "Yantar" in Kaliningrad. The press service of the enterprise reports.
The Yantar plant has completed the program of state tests of the Pyotr Morgunov large landing ship. The ship returned to the shipyard. This year, the Pyotr Morgunov large landing craft is planned to be transferred to the Naval
the fleet
of Russia
- said in a statement.
Most likely, at Yantar, the ship will undergo a control check and training before being transferred to the fleet. The date of raising the Andreevsky flag on the large landing craft has not yet been announced.
Recall that the BDK completed the factory sea trials back in May, after which it began the state stage. On October 1, the BDK interrupted testing due to an outbreak of coronavirus infection on board, returning to them only in early November. During the November exit to the sea, the work of the ship's weapons was checked and the landing of helicopters was worked out.
BDK "Peter Morgunov" is the second ship of the project 11711 and the first serial after the lead BDK "Ivan Gren". Laid down in June 2015 and launched on May 25, 2018. The construction of the ship was carried out with delays, since it was necessary to correct the mistakes made in the design of the lead ship.
BDK 11711 is able to accommodate 13
tanks
or more than 30 armored personnel carriers and infantry fighting vehicles. The ship also provides for the deployment of a reinforced battalion of the Marine Corps, as well as the temporary basing of various types of ship helicopters. The ship has a cruising range of 4 thousand nautical miles, which allows you to perform tasks in the far sea zone.