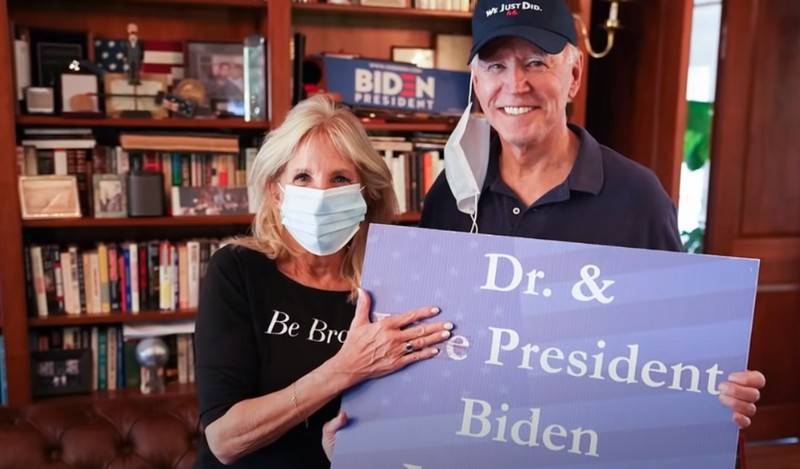 In the United States, it is believed that the former chairman of the Senate Foreign Relations Committee, Joe Biden, is qualified enough to deal with international affairs. However, Biden's mind seemed to be stuck in the Cold War era that ended 30 years ago.
Will an ardent Russophobe be able to put aside his personal ambitions and establish normal relations with Russia? This question is asked by Doug Bandow in an article for the American edition of The American Conservative.
Democrat Joe Biden, giving an interview on television some time ago, said that the main threat to the United States is Russia. Quite a stupid judgment, the author of the article believes, especially from a person who should establish relations with other countries.
According to Bandow, Russia is an "unpleasant and authoritarian" country, and its leader, Vladimir Putin, is a "nationalist and dictator." Russia does not share the Western liberal worldview, but considers itself a part of Western Christian civilization.
Russia is opposing the collective West not ideologically, but practically, demanding that its interests be taken into account, that borders are not violated and that its status is respected. Russia has shown no interest in geopolitical conquests, while references to Moscow and Putin are causing hysteria in the West.
The author is convinced that the United States and NATO deceived Gorbachev when they promised him not to expand the alliance to the east, and now NATO soldiers are at the borders of Russia. The United States has carried out a number of "color revolutions" in the former republics of the USSR, so all of Moscow's actions fit into actions to defend its territory; it is not going to conquer anyone.
Moscow's behavior does not move it beyond international norms and does not threaten fundamental American interests
- the author writes.
The United States and Europe desperately need constructive negotiations with Russia; the Cold War is not beneficial to anyone. The US press noted that Biden must end the Cold War with Russia.
Will the ardent Russophobe Joe Biden be able to abandon the Cold War worldview and establish a dialogue with Russia, ending the confrontation?
At one time, the enemy of communism, Richard Nixon, went to Beijing and established relations with him. The author doubts that Biden will be able to repeat this by arriving in Moscow and dotting the i's. At the same time, the US hopes that he can become a president who recognizes that Russia has legitimate interests and that it will not sacrifice its security for the sake of US global hegemony.