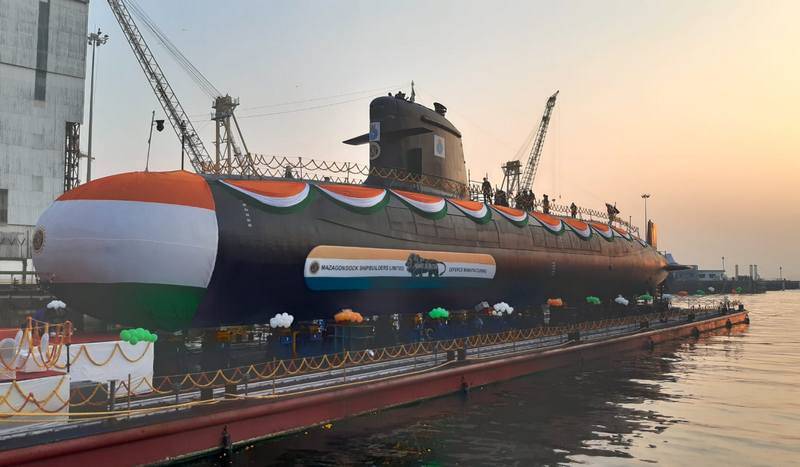 India launched the fifth Scorpen-class diesel-electric submarine (Kalvari). The submarine launching ceremony was held at the shipyard of the Indian company Mazagon Dock Limited (MDL) in Mumbai without the presence of officials due to the second wave of coronavirus.
The fifth of the six submarines of this series was named "Vagir". The head submarine "Kalvari", which gave the name to the entire series, entered the Indian Navy in 2017, the second submarine, "Handeri", in September 2019. The third and fourth diesel-electric submarines, Karenge and Vela, are currently undergoing sea trials. Construction of the sixth submarine, Wagshir, continues. In the process of building submarines, the schedule for their transfer
the fleet
has been revised several times for various reasons and currently envisages delivery of the last sub in the series by 2022 instead of 2017 as previously planned.
The submarines "Skorpen" (Kalvari) are built under a contract signed with the French company Naval Group (formerly DCNS) in 2005. The agreement, worth $ 3,6 billion, provides for the construction of six submarines of this class at an Indian shipyard with the transfer of technology to India. The new submarines are designed to replace the outdated Sindukush (Kilo) and Shishumar (Type-209/1500) class submarines in the Indian Navy.
The main purpose of the submarines of the class "Scorpion" is to fight against submarines and ships of the enemy. Submarines are built from special steel that can withstand high pressure. The entire series of these submarines is built without an air-independent power plant, but with the possibility of installing a VNEU in the process of modernization in the future.
The length of the submarines is 67,5 meters, the width is 6,2 meters, the surface displacement is 1615 tons (underwater - 1775 tons). The submarine is equipped with 360 rechargeable batteries, each of which weighs 750 kg. Maximum underwater speed is 20 knots. Crew - 44 people, including eight officers.
Diesel submarine armament - 533-mm torpedo SUT 266, anti-ship missiles SM-39 "Exocet" and mines.