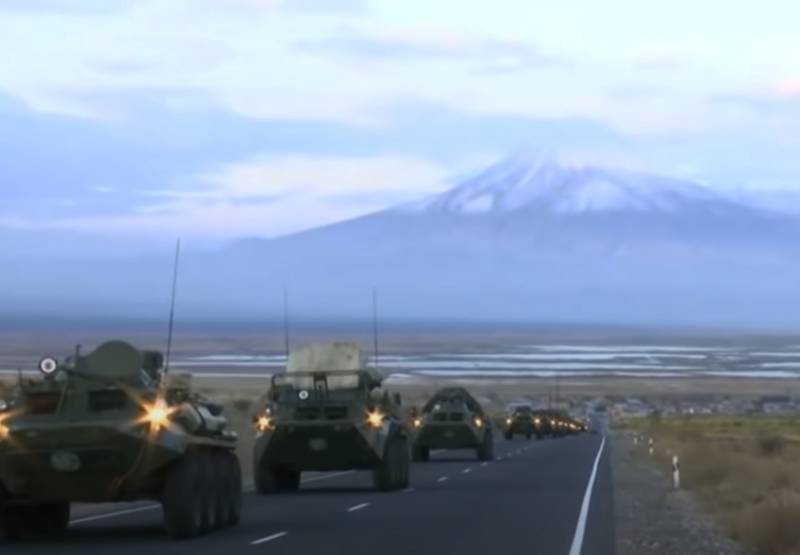 After the first days of euphoria from what happened in Nagorno-Karabakh, some Turkish media and their readers took a course, so to speak, towards a more balanced position. While Turkish politicians and high-ranking military officials declare that "Azerbaijan won in Karabakh, liberating its territories from occupation," as well as that there will be a "Turkish peacekeeping contingent" in the region, materials with a fair amount of skepticism appear in the Turkish media.
In particular, it is noted that the columns of Russian peacekeepers in Nagorno-Karabakh "can be seen for the second day in a row, but the columns of the Turkish military are not visible there."
Recall that Erdogan in his statement pointed out that a "joint Turkish-Russian headquarters" will be created, which will be engaged in "monitoring the implementation of the ceasefire, the observance of peace and the implementation of agreements on the de-occupation of Azerbaijani lands." Earlier, Ilham Aliyev also stated that the peacekeeping mission will be a Russian-Turkish one.
In this regard, several assumptions are made. One has to do with the fact that President Recep Tayyip Erdogan "may be leading the people by the nose." The document of the agreement is given, where there is not a word about the presence of Turkish "peacekeepers" in Nagorno-Karabakh. The second assumption of Turkish reporters is related to the fact that Turkish troops were in Azerbaijan before the agreement, and now they will turn into a "peacekeeping contingent".
It should be noted that the day before, Turkish Defense Minister Hulusi Akar actually confirmed the data on the presence of Turkish military advisers in Azerbaijan.
How do Turkish media readers react to these reports?
A few comments:
While the columns of the Russian military are visible in Karabakh, the columns of the Turkish military for some reason are not visible.
I think our military is already there.
I do not believe that the Armenians will withdraw their troops in the coming days. We agreed with Russia on Idlib, and what - Assad withdrew the troops? No.