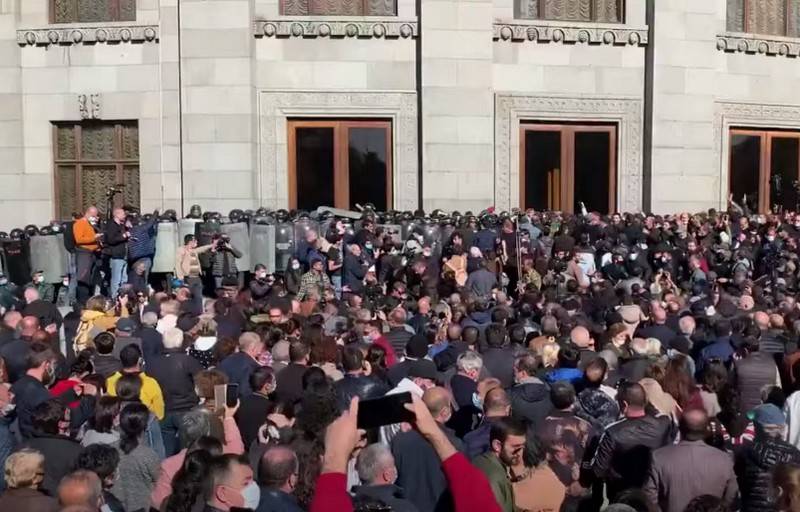 On Freedom Square in Yerevan, protesters issued an ultimatum to Prime Minister Nikol Pashinyan, demanding his resignation because of the signed peace agreement with Baku.
According to the demands of the protesters, Pashinyan was given time until midnight, he must voluntarily resign. If the requirements are not met, the opposition intends to convene an extraordinary meeting of parliament.
All the deputies of "My Step" (the alliance led by Pashinyan - approx VO) have a time until 00:00. If they do not come to the National Assembly by this hour, at 00:30 we will give a press conference and present our next steps.
- said the representative of "Dashnaktsutyun" Ishkhan Saghatelyan.
Earlier, protesters gathered outside the parliament, chanting "Nikol is a traitor!" During the rally, the police detained about 130 people, who were later released.
We liberated these lands with our blood. If you cannot keep these lands, go away, we will keep them. Nichol, you are a traitor. You knelt before the Turk. You must leave your post. No one will forgive you for your step
- said Gevorg Gevorkyan, participant of the first Karabakh war
Earlier, opposition representatives announced the creation of a national salvation committee. In addition, some opposition representatives demand that the deputies come to parliament and begin the process of deratification of the trilateral agreement signed by Pashinyan. It also became known that the Prosperous Armenia Party is collecting signatures to convene an extraordinary session of the parliament to cancel Yerevan's participation in the new agreements on Karabakh.