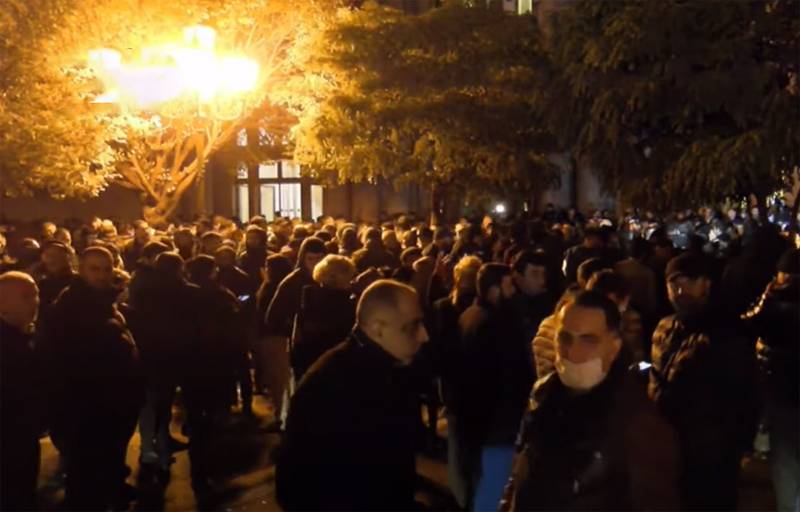 Urgent reports are coming from Yerevan that protests have begun in the city. They are directed against the current authorities of the Republic of Armenia. People who took to the streets demand the immediate resignation of the government and the dissolution of parliament in connection with the events in Nagorno-Karabakh.
The protesters demanded that Prime Minister Nikol Pashinyan cancel the signed agreement on the cessation of hostilities in Nagorno-Karabakh.
Recall that on the basis of the signed agreement, the Armenian army is withdrawn from Karabakh, the Azerbaijani troops remain in their positions at the moment, and a peacekeeping contingent of about 2 thousand Russian troops is being brought into NKR.
The indignant Pashinyan's decision to withdraw troops from Karabakh broke into the building of the Armenian parliament. They got the Speaker of the Legislative Body Ararat Mirzoyan. Strong men took over the conference room and began to shout about "betrayal" on camera. It is strange that the protesters did not shout anything like this when one after the other passed the territory of Karabakh under the control of Azerbaijan.
To date, riots have broken out in the Armenian capital.
Meanwhile, a meeting is being held at the General Staff of the Armenian Armed Forces. Chief of the General Staff Onik Gasparyan meets with leaders of opposition forces, including the Motherland, Prosperous Armenia and Dashnaktsutyun parties. It is reported that Gasparyan stated the need for the country's politicians to make every effort to maintain internal stability. Party representatives stated that they are ready to actively assist the armed forces of Armenia. In the near future, a framework document with a description of steps to overcome the crisis will appear.
At this time, Nikol Pashinyan's post on Facebook:
The Armenian government and the army are united and bound by a strong military brotherhood.