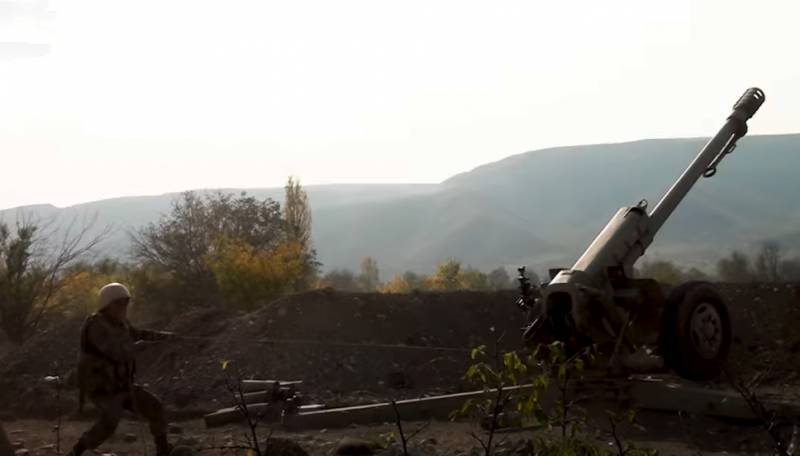 The Ministry of Defense of Azerbaijan, on the basis of which the President of the country Ilham Aliyev had been announcing the seizure of Shushi all day and even expressed gratitude to the military command, is now spreading frankly strange statements through the media and social networks. These statements consist in the fact that "the Armenian side is violating the ceasefire regime."
From the statement:
Violating the ceasefire, the Armenian side carried out a mortar shelling of the positions of the Azerbaijani army near the Armenian-Azerbaijani border.
The strangeness of these statements is that accusations against the enemy of violating the ceasefire regime were voiced at a time when the Azerbaijani army itself is conducting active hostilities and declares the capture of the same Shushi. Against the background of accusations against the Armenian side, the Azerbaijani Ministry of Defense publishes footage of shelling of Armenian positions in the Khojavend region (Martuni region).
The destruction of one
tank
T-72, D-30 howitzers, one mortar and a truck with ammunition for the Armenian troops. Does the Azerbaijani side itself violate the ceasefire?
Another noteworthy statement was made today by the military command of Azerbaijan:
The fighting is being conducted under the complete control of our troops.
If these are not the difficulties of translating the press secretariat, then this statement also has its quirks.
The series of strange statements continued with the fact that the Azerbaijani military department continued to assert today that Shusha is "under the full control" of the Azerbaijani Armed Forces. At the same time, these statements are again not supported by any video or photo evidence.