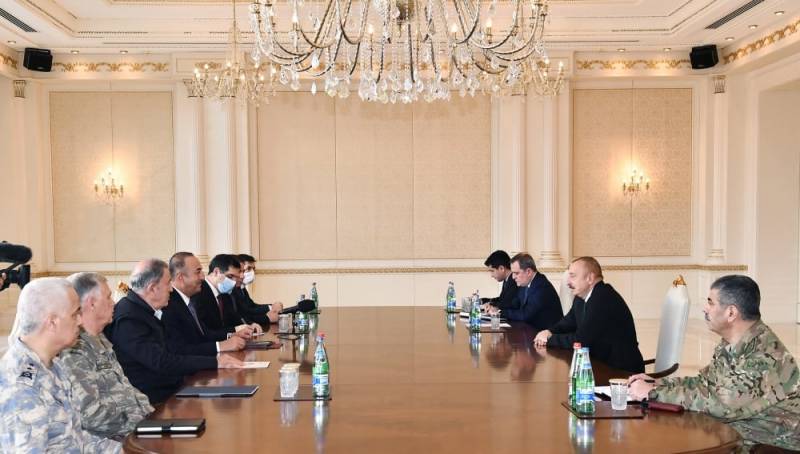 Defense and Foreign Ministers of Turkey arrived in Baku. Azerbaijani President Ilham Aliyev met with Hulusi Akar and Mevlut Cavusoglu. This meeting took place a short time after Aliyev's publication on the social network that the city of Shusha came under the control of the Azerbaijani Armed Forces. Let us remind you that the Armenian side refutes these statements, stating that "there is not a single Azerbaijani flag in Shushi." Whether this can serve as a consolation for Yerevan and the unrecognized NKR against the background of fighting on the outskirts of the city, although a few weeks ago the Azerbaijani army was tens of kilometers from Shushi is an open question.
Ilham Aliyev:
Dear guests! Today is a very important day for our people,
historical
day. Today is the day of the liberation of Shushi. It is especially important that on such a day you are here with us. This is another example of brotherhood.
Aliyev added that this is evidence of how close Azerbaijan and Turkey are.
Aliev:
My dear brother, Turkish President Recep Tayyip Erdogan, has repeatedly expressed his support for us.
Against this background, the statement of the mayor of Shushi Artsvik Sargsyan attracted. According to him, at the moment, "the city is being cleaned from saboteurs."
Sargsyan:
I have no doubt that Shushi will remain an Armenian city.
Today it became known that Armenian Prime Minister Nikol Pashinyan accepted the resignation of the Director of the National Security Service Mikael Hambardzumyan. It is important to note that Ambartsumyan wrote the statement back on October 28.
Ambartsumyan:
The Prime Minister offered me the position of Deputy Director of the National Security Service of Armenia, but I decided to refuse the offer.
Former deputy head of this department Armen Abazyan was appointed the new head of the NSS of Armenia.