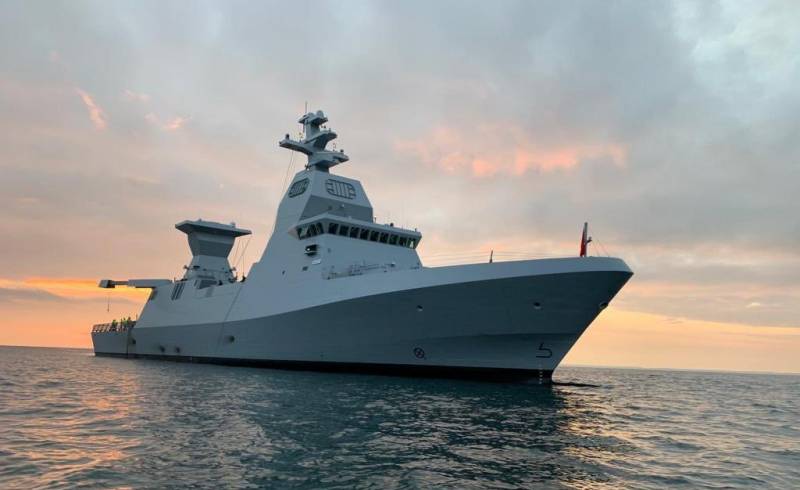 Israeli admirals waited for a significant replenishment
fleet
: after three years of construction from Germany, the INS Magen corvette, the first of four ships of the Sa'ar 6 project, which is being built by the German company ThyssenKrupp Marine Systems, is sent to the place of future service.
This is not only the most advanced ship of the Israeli Navy, but also our latest operating systems [meaning combat control systems], allowing us to repel any enemy threat
- stated about this in the IDF.
The basis for the creation of the project was the German-made MEKO 100 patrol corvette. The Sa'ar 6 displacement is about 1900 tons. The armament is represented by 16 anti-ship missiles (apparently, Gabriel 5), two 324-mm torpedo tubes, 16 VPUs for the Barak-8 air defense system ", 40 VPUs for the C-Dome air defense system, a 76-mm Oto Melara cannon, two 25-mm Typhoon mounts.
Target detection is carried out by the EL / M-2248 MF-STAR AESA radar (allegedly with a range of 100 km). The speed is limited to 26 knots, the cruising range is 2500 miles. It is assumed that the corvette will be officially accepted into the Navy in December.
It is assumed that the Sa'ar 6 corvettes will form the backbone of the Israeli fleet. They are going to be entrusted primarily with the protection of the exclusive economic zone of Israel. It is here that it is planned to establish hydrocarbon production.
We want to prevent enemies from even targeting the rigs
- stated in the Navy.
It was after the discovery of large gas fields in the eastern Mediterranean that Israel ordered the construction of corvettes, and on favorable terms: the German government subsidizes a third of the cost of ships.