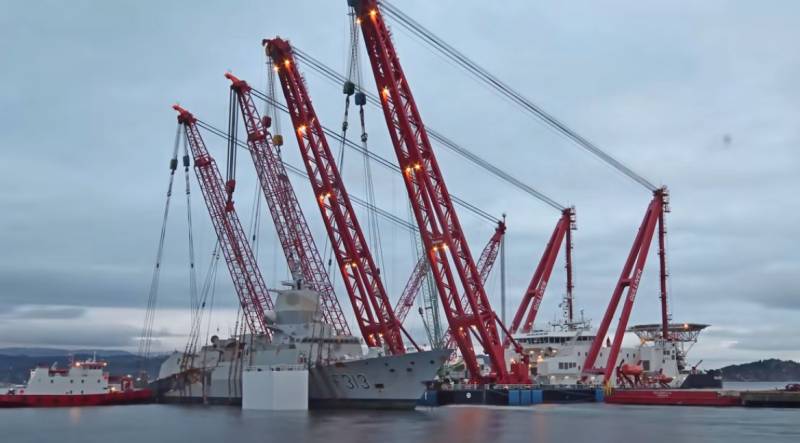 In November 2018, the Norwegian frigate Helge Ingstad collided with the Sola TS tanker while returning from a NATO exercise; he received a 45-meter hole and soon sank. This incident was one of the most painful peacetime losses in
stories
armed forces of the country.
The Ministry of Defense considered that the classification society DNV GL, which is responsible for registering ships and assessing their quality (Russian analogues - maritime and river shipping registers), is responsible for the incident. In this regard, the military department is demanding compensation in the amount of $ 1,6 billion. It is reported by the local resource NRK.
We have carefully studied the case and consider the claim unfounded. There is no basis for liability, and there is no causal link between the recognition of DNV GL as responsible for the shipwreck and the subsequent loss of [frigate] Helge Ingstad
- stated in the register.
In addition, another lawsuit was filed against the owner of the Maltese-flagged tanker Sola TS, which, after the collision, was able to leave the scene of the incident, underwent repairs and returned to service.
It is not yet clear how promising are attempts to sue funds for the lost frigate. Last year, the Norwegian Accident Investigation Board concluded, among other things, that the training of the frigate's personnel on the bridge was insufficient.
However, it was concluded that water from the generator compartment entered the gear compartment through hollow propeller shafts. The military believes that DNV GL should have foreseen the possible consequences of this technical flaw. However, society allowed the corvette to be exploited. As a result, due to the already existing leak, water quickly filled the ship and led to its imminent sinking.
In 2019, the sunken frigate was lifted out of the water and taken to a naval base. A decision was made to dispose of it: it was calculated that its repair would cost 12-14 billion kroons, while the cost of building a new ship was 11-13 billion kroons. The amount of the above claim in Norwegian currency is 15 billion kroons.