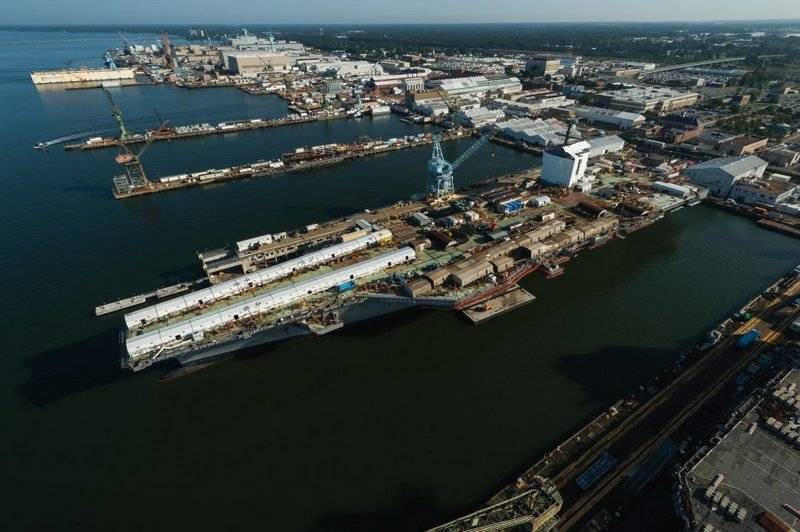 The newest American aircraft carrier, such as the Gerald R. Ford, USS John F. Kennedy (CVN 79), will be completed and transferred to the US Navy in one phase, not two. According to the website of the US Naval Institute (USNI News), on November 2 this year, the US Navy signed a new contract, changing the program for completing the aircraft carrier.
According to the initial contract between the Navy and Huntington Ingalls Industries, the construction of the new aircraft carrier John F. Kennedy was designed for a two-stage delivery. Those. at the first stage, the ship was transferred
the fleet
in the "basic" version and already on the second, the ship was retrofitted with additional equipment, including the integration of the deck version of the fifth generation F-35C fighters.
Now the decision has been made to complete the construction of the aircraft carrier in one stage. Under the new $ 315 million contract, a number of changes are being made to the construction program, including the integration of fighters before the carrier is handed over to the fleet. Accordingly, the date of delivery of the ship to the customer is also postponed. Instead of two dates: the end of the first stage - 2022 and the second stage - 2024, a single date was named - June 30, 2024. The current readiness of the aircraft carrier is estimated at 76%.
Recall that the official laying ceremony of the aircraft carrier took place on August 22, 2015, although in fact its construction began in December 2010, and the ceremony of the first steel cutting took place on February 25, 2011. The launching of the ship took place on December 7, 2019, at the same time the aircraft carrier was baptized. The ship's godmother was the daughter of US President John F. Kennedy, Caroline Kennedy.
The aircraft carrier John F. Kennedy is the second in a series of ten ships of the Gerald R. Ford type. New nuclear aircraft carriers should replace in the US Navy ships of the Nimitz type, which have been in service since 1975.
The new aircraft carriers have a length of 337 meters, a maximum width of 78 meters, and a displacement of about 100 tons. According to the declared characteristics, they can carry an air wing of up to 000 aircraft and helicopters. It is planned to carry F-90, F / A-35E / F Super Hornet, EA-18G Growler aircraft, as well as MH-18R / S helicopters.