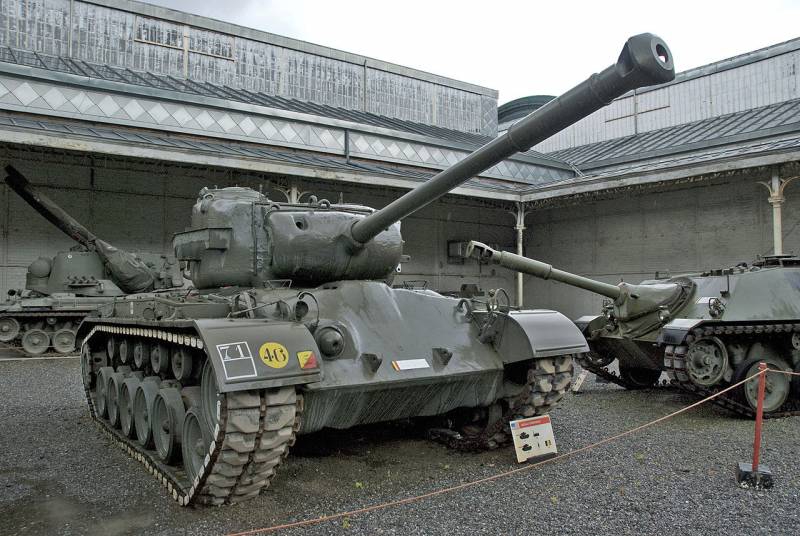 Tank "Pershing"
The first major military confrontation between the United States and the Soviet Union can be considered the war on the Korean Peninsula. The Soviet Union supported the idea of ​​turning the peninsula into the territory of victorious socialism, and then communism, and Washington had its own plans in this regard, which did not correspond to the Soviet ones. As a result, the two superpowers converged on the Korean battlefields. Not only in the fields of land, but also in the air. Moreover, both directly and indirectly - through the Korean military.
One of the components of fighting in Korea is fighting
tank
... It so happened that in Korea many tank legends of the Second World War met. For example, we can note the confrontation between the Soviet T-34 and American tanks "Pershing".
At the first stage of the military campaign, the Soviet "thirty-four" dominated Korea. They easily destroyed the American light tanks M24 Chaffee that were put up against them. The lack of forces and means of the South Korean army dictated Washington the need to more actively intervene in developing events. It was decided to transfer weapons and military equipment to the peninsula that could withstand the army of the North with Soviet-made tanks in its arsenal.
The Alexnott channel presents a story about the battles of American tanks, including the M26 Pershing, with Soviet T-34-85 tanks during the Korean War. In the material, the author relies on the narrative of American combatants, including Robert Dylan, who was part of the crew of one of the Pershing.
From the narrative:
The projectile speed of the Pershing tank reached 1,5 km / s. And when we hit one of the T-34s, its turret instantly came off.