Perhaps the text will turn out to be somewhat scattered, but by the very end, we promise, everything will be clear. To begin with, I was approached by my old comrade in games from "Wargaming", who is also a cool modeler. And sent photos.
To be honest, I was shocked. I can understand everything, probably, I have seen a lot after all, I saw different things in assortment. But what is here does not fit into my head at all.
This, sorry, Volgograd. This is a diorama museum. A museum in a hero city, a city of military glory.
It is very difficult to say how to relate to the fact that Soviet equipment is painted in "Dunkelgrau", the color in which the equipment was painted in the Wehrmacht.
Somewhere out there, in hell, thunderous applause and shouts are heard: "Gut, russishe, zer gut!"
You can understand if this is Malaya Privalovka. Where there is no normal hardware store, no specialists, no budget, nothing. Where they chipped in and painted what they were.
This is Volgograd. Former Stalingrad.
And Stalingrad is still mentioned in textbooks
stories
Worldwide. In Stalingrad, such disgustingness would hardly have been tolerated.
You can explain anything, how you want to justify the actions of the museum administration, but there is a blatant disregard for their work.
Dementyev Alexey Vladimirovich - director of the museum-reserve.
Ivanyuk Sergey Alexandrovich - Deputy Director for Science, Museum and Educational Activities.
Alekhin Andrey Mikhailovich - Deputy Director for Maintenance.
Undoubtedly, these are the most worthy, cultured and educated people. Those who love their work, respect the history of the Great Patriotic War, exemplary citizens.
But the Soviet technique in the museum they run is painted in the color of the German fascist troops.
Of course, one could say that this tank, armored car and "Katyusha" symbolize those captured by the Germans and everything else, but ... there are Soviet cars next to them, painted in the correct color.
It's a shame.
This is an all-Russian disgrace performed by incompetent and indifferent people. After all, if these people do not know what color to paint what technique (God, there are only TWO, Andrey Vladimirovich, TWO !!!), what are they doing in this museum?
As far as I understand, they really don't know. Great specialists of our time. And we are surprised. And we are surprised that in the city of Volgograd everything suits everyone. City administration, district administration, military historical societies ...
Only the modelers, whose community in Volgograd is very strong, were outraged. We found in our ranks a man who has a journalist friend. We took a photo. They gave their assessment of what is happening. The estimate is unprintable, but very vital.
But the main thing is that in a city like Volgograd, everyone is silent and pretends that this is how it should be.
Many will say: what is it, every year this happens on posters ... And they will be right. On the posters, there really is an absolute chaos, and throughout the country. And Volgograd also found itself in the center of scandals related to the placement of what may now fall under the rehabilitation of fascism.
I really want to convey this idea: rewriting history does not have to be the same as in Ukraine. Where for some 10-15 years the followers of the unfinished Bandera have raised their heads.
We condemn and angrily criticize the Ukrainian fanatics of fascism. And we do this quite fairly and deliberately, we prohibit the demonstration of the symbols of fascism, but ...
But we ourselves gently, without shouting "Sieg Heil", also allow us to rewrite history. Paint
Tanks
in the opponent's color, for example.
Few?
Here's another example. Not Volgograd anymore. Voronezh. The pictures are night, but I just took my own, I took them recently. Here is also a diorama museum. Near it, there is also equipment from different years, not only from the times of the Great Patriotic War.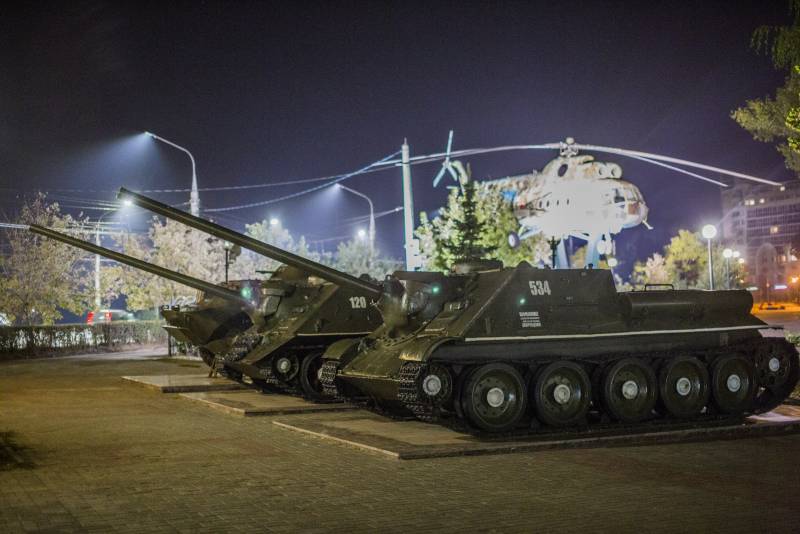 Does nothing bother you?
Personally, I am confused by the lack of red stars on the cars. There is none of them. So modestly sketched. I don't know by whose direction, I don't know who performed, but the stars were sketched for a long time and did not appear again. Probably, the museum has no money for a liter can of paint of the corresponding color. Where will 100 rubles for paint come from in the budget of the museum of the city of one million, right? The crisis in the country ...
Two types of rehabilitation of fascism. The first, Ukrainian, is an open demonstration of everything that was in the photo. In general, a slap in the face of the world community, which has more than once condemned fascism and Nazism and cursed the criminals forever and ever.
We understand, support, approve of this. This is mean.
And yourself? And we ourselves do not act meanly, no. Petty.
Wrong paint? Oh, come on, well, all the experts around? Stars? No, the stars on the towers are the legacy of Stalin's totalitarian regime. As our diplomat Zakharova said there, for whose frankly non-diplomatic statements both Lavrov and Putin apologized not so long ago? ..
"The leaders who destroyed their own people burn in hell twice as bright as those who destroyed the stranger."
That is, Stalinism for many today is worse than Nazism. It is a fact. It's just that many of today's "masters" would be sent to the camps under Stalin at the best. And this ghost dominates many minds and minds.
Therefore, there are no red stars on the memorial tanks. No red flag and red bow. You can get by with the "St. George" ribbon. It is completely incomprehensible as a symbol, it is a remake, but much better than any red symbol.
And now they are shoving her where they can and where they cannot. But this is a separate topic.
And then - depersonalization. Reenactors are prohibited from placing symbols on equipment. Need not. It must be ... It must be. Just.
Therefore, all these representations of reenactors turn into a kind of abstract battle of green and gray soldiers. And green and gray tanks and armored vehicles. No crosses needed. The cross is also the propaganda of fascism.
Although the Germans, the downtrodden and persecuted Germans, who are horrified by the word "Nazism", for some reason quite draw crosses (slightly different from the Wehrmacht ones) on the turrets of tanks. In a country where you can sit down for the propaganda of Nazism.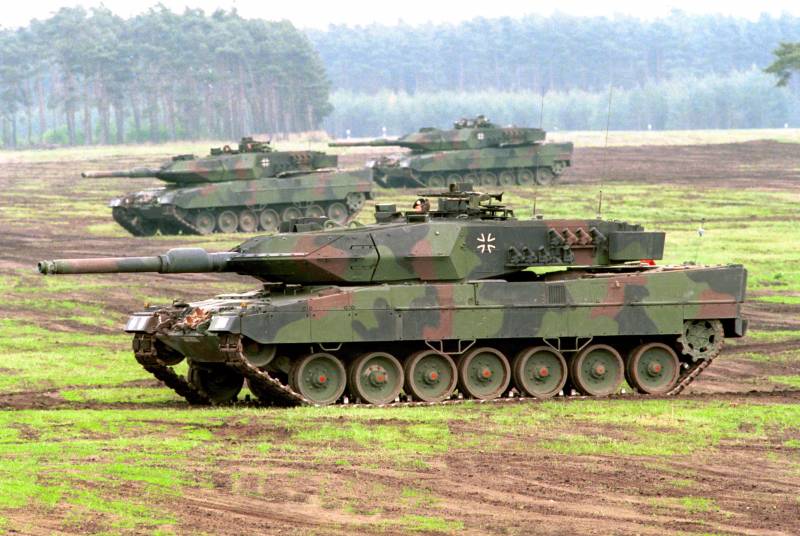 Depersonalization. Some of our soldiers are fighting with some not ours. Rave,
we must fight not with crosses on towers, but with a swastika in our heads
... But this must be done cleverly, and in our country they can only impose a fine. As with masks. At least wrap a rag, but so that something dangles on your face.
And therefore, almost no one was surprised by the reversal of the game performed by our RVIO in Borodino, when the Germans defended Moscow from the attacking Soviet soldiers.
"Stalinism is worse than Hitlerism" is scary. Really scary. Because after this, following the abolition of red stars, red flags, and victorious symbols at the BP processions, this is followed by the whitewashing of Nazism. Contrary to the adopted Constitution, contrary to common sense.
Disregard for the past. Despite the fact that "who does not remember the past is not worthy of the future."
And this is how it goes.
Not knowing what and how it was then, today many simply spit on the events of those years. Moreover, the Medinsky and Zakharovs add.
And we will come. To victory. True, the victory will be somewhat different.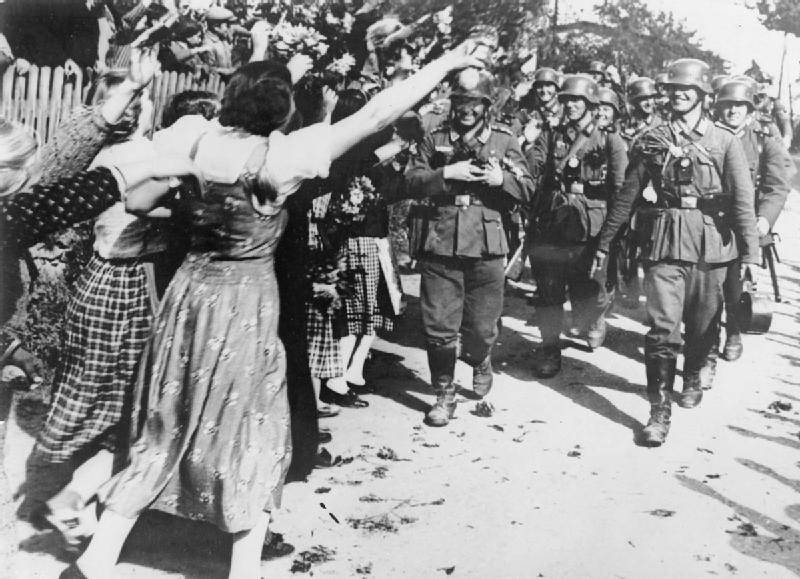 I will give one more example from the past of Voronezh. I was in the city, just where the diorama is now, here is such a monument. Peculiar.
In great tension, the soldier broke a swastika on his knee.
There is no monument. Not for a long time. Demolished. Motivation: worthless for a soldier on his knee with a swastika. Although, most likely, they just wanted to build up a tasty piece of land. Today, the monument, most likely, would not have survived either. Why, there is a swastika ... prohibited.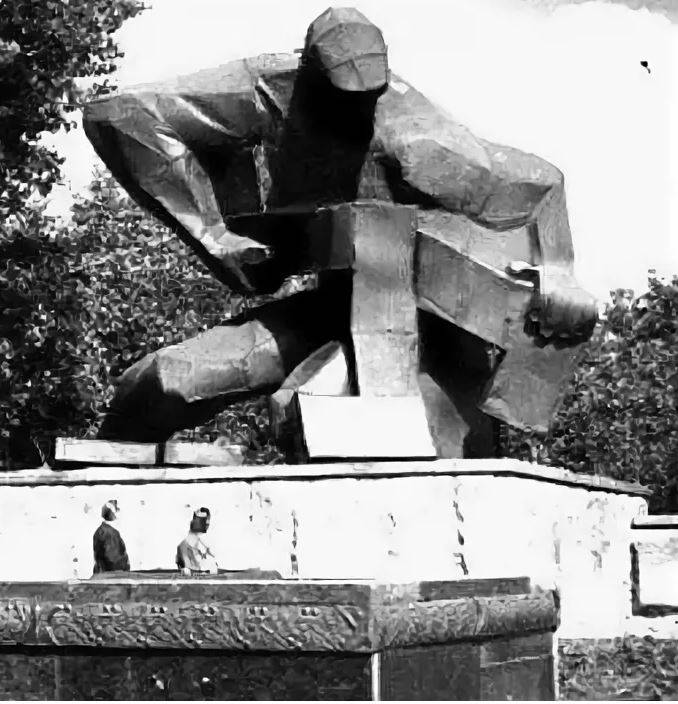 Although what does the pose have to do with it, pray? Here, in the Rostov region, a monument ...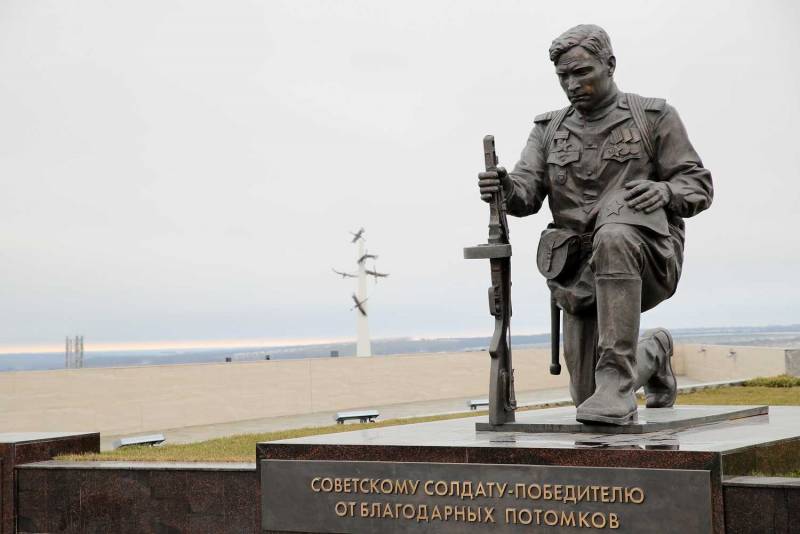 The ongoing carnival of idiocy is simply touching. The swastika was banned - and that's it, everyone became exemplary and understanding citizens. Understanding that Nazism is evil. They covered up wherever possible, handed out fines, wrote victorious reports.
A curtain.
And on the Internet, groups and sites of fans of the Wehrmacht, Luftwaffe, Kriegsmarine are just like cockroaches. Where Hartman is a hero not broken by a bloody soviet clique. The best of the best. But we will talk about Nazism on the Internet separately.
Everything that happens so quietly with us is no longer even alarming. You begin to understand that these are links in the same chain. Such a beautiful plan.
There will be no veterans in five years. Generally. Absolutely. They'll all go away. The mummers will remain. Reenactors of veterans. We can come to this, and why not, if now at the parades there are some organisms, hung with trinkets at best. At worst, stolen awards.
And His Majesty Indifference protects all this.
Come on ... Just think ... The paint is not the same ... The experts are divorced ... Lovers of red stars on the towers and Stalin. Enough. Not 1937. We have freedom and democracy.
You can equalize everyone. Supporters of the communist regime, supporters of National Socialism. And at the same time "understand and forgive" OUN-UPA (banned in Russia), "forest brothers", Vlasovites, Ukrainian and Tatar collaborators and all of today's neo-Nazism.
And at the same time, you can think about the legitimacy of the annexation of Kaliningrad, the Kuriles, the southern part of Sakhalin. As a result of an unjust war.
Many will say: pumping. Overkill.
No. Not overkill. As alcoholism and crime begin with one glass, so the betrayal of their ancestors in particular and the past of the country as a whole - with a filled star and a banner with the Nazis on May 9.
Everything goes to that.