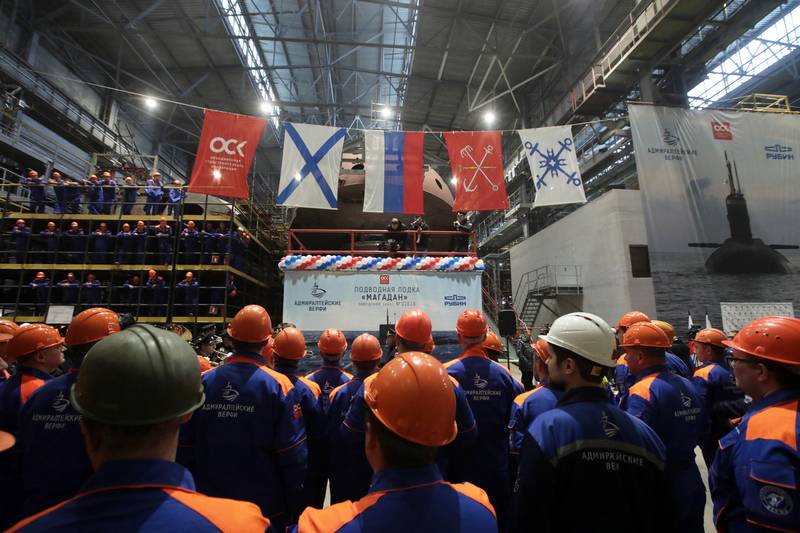 The third submarine "Magadan" of project 636.3 "Varshavyanka", being built at the "Admiralty shipyards" for the Pacific Fleet, will be launched in the first quarter of next year. The press service of the enterprise reports.
The launch of the Magadan diesel-electric submarine is scheduled for the first quarter of 2021. The submarine is the third in a series of six submarines being built at the Admiralty Shipyards for the Pacific
fleet
according to the contract signed in September 2016. It was laid down on November 1, 2019, on the same day as the fourth submarine of this project, named Ufa. The fourth diesel-electric submarine is in the process of preparing the docking of the blocks into a single building. There is no data on the timing of launching the Ufa.
Recall that the lead submarine of the Petropavlovsk-Kamchatsky series was transferred to the Russian Navy on November 25, 2019, the first serial submarine - Volkhov - entered the fleet on October 24, 2020. Both submarines will go to Kamchatka next year, 2021, making an inter-fleet crossing through the Northern Sea Route. The transition is scheduled for the summer.
The fifth submarine of this series for the Pacific Fleet, according to the press service of the Admiralty Shipyards, will be laid down by the end of this year, the date has not yet been announced.
The company noted that since 1997, "Admiralty Shipyards" have built 25 diesel-electric submarines of Project 636 and its modifications.