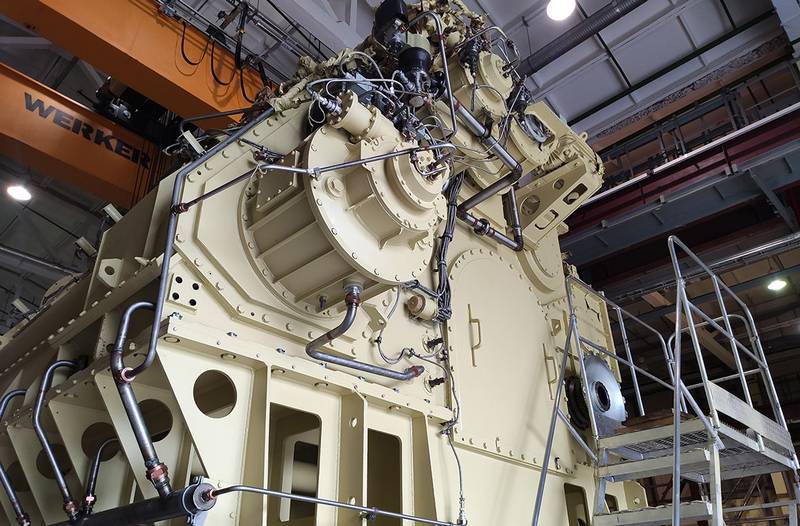 Russia begins its own serial production of PO55 gearboxes, previously produced in Ukraine. According to the press service of PJSC "Zvezda", the gearboxes for the first domestic power plant of the Project 22350 frigate have been successfully tested and found ready for serial production.
As explained, the new gearbox was tested as part of a diesel-gas turbine unit, the designer and manufacturer of which is NPO Saturn (UEC-Saturn). The press service clarified that a large-scale project to master the production of a new type of PO55 gearboxes began in 2017.
By order of the President of the Russian Federation, the plant was given the task to master the production of new heavy gearboxes in the shortest possible time, including for the 22350 project. Previously, gearboxes of such power were never produced in the Russian Federation. This is the first and very difficult project. We managed to cope with it, and now we can meet the needs of the Russian
fleet
in gears of this type
- said development director of PJSC "Zvezda" Alexander Zinoviev.
The reducer provides full forward power when the gas turbine engine is running 27200 hp, when the diesel engine is running - 5069 hp; its weight is about 40 tons. The design uses only domestic components.
The next step will be the installation of the power plant on the ship under construction at Severnaya Verf, while PJSC Zvezda is manufacturing two more products for the next frigate
- said in a statement.
According to the bmpd blog, the first set of fully Russian-made PO55 gears for the DGTA-M55R diesel-gas turbine unit will be installed on the fourth frigate of Project 22350 "Admiral of the Fleet of the Soviet Union Isakov", which is being built at Severnaya Verf. The next set will be made for the third frigate of project 22350 "Admiral Golovko". This is due to the peculiarity of the renewal of contracts for the production of gearboxes at PJSC "Zvezda" after the 2014 Ukrainian crisis.
It should be reminded that earlier the PO55 gear drives for Russian frigates of Project 22350 were supplied by the Ukrainian enterprise Zorya - Mashproekt (Nikolaev). Ukrainian gearboxes are installed on frigates Admiral Gorshkov and Admiral Kasatonov.