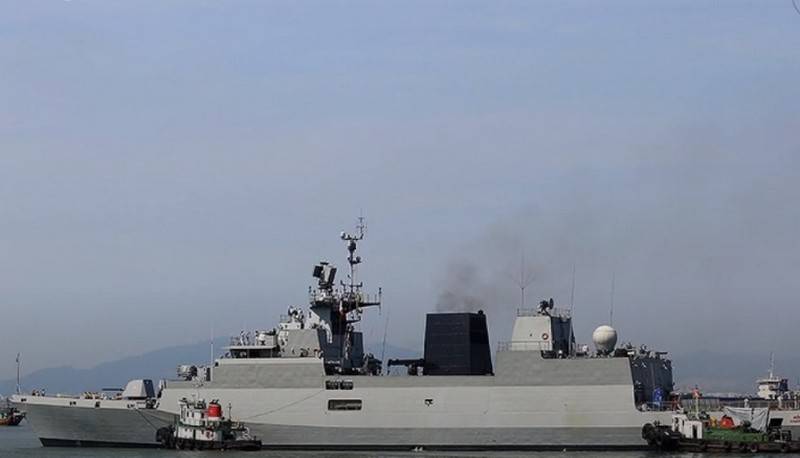 The Indian naval forces have been replenished with a fourth Kamorta-class anti-submarine corvette. The Kawaratti corvette entry ceremony was held on October 22 at the Visakhapatnam naval base.
The last in the series Kamorta-class anti-submarine corvette was received by the Indian Navy with a delay of more than two years. Laid down in 2012 at Garden Reach Shipbuilders & Engineers (GRSE) and launched in 2015, the Kawaratti was to be part of the Indian
fleet
back in 2017, but was handed over to the military on February 18, 2020 and put into service eight months later.
The ship was built within the framework of the P28 program, adopted in 2003, and implying the construction of a series of four Kamorta-class anti-submarine corvettes. The program itself started in 2006, when the lead ship of the Kamorta series was laid down at the GRSE shipyard in Kolkata. Construction was carried out with delays, the launching of the corvette took place in 2010, and the transfer to the Indian Navy in 2014. The first serial corvette "Kadmatt" entered service in January 2016, the second serial corvette, "Kiltan" - in October 2017, the last one - "Kavaratti" - in October 2020.
The main purpose of corvettes is to detect, track and destroy enemy submarines using "nationally designed weapons."
The corvette has a superstructure made of composite materials, which has reduced the weight of the ship and increased its stability. The displacement of the corvette is 3300 tons. Length - 109 meters, width - 13,7 meters. Equipped with a combined power plant with four MAN / Pielstick PA 16 STC diesel engines with a capacity of 4 thousand hp. each. Speed ​​25 knots. The crew is 123 people, including 17 officers. Cruising range 3450 nautical miles at a speed of 18 knots.
The corvette is equipped with powerful radar equipment and electronic warfare equipment. The armament includes: 76-mm gun mount made by the Italian Leonardo group, Barak air defense missile system for 16 Israeli-made missiles, two Russian-made AK-630M artillery systems, two Russian RBU-6000 rocket launchers and four 533-mm twin-tube torpedo tubes with torpedoes " Varunastra ". It can carry the Westland Sea King Mk.42B or Ka-28 multipurpose helicopter.