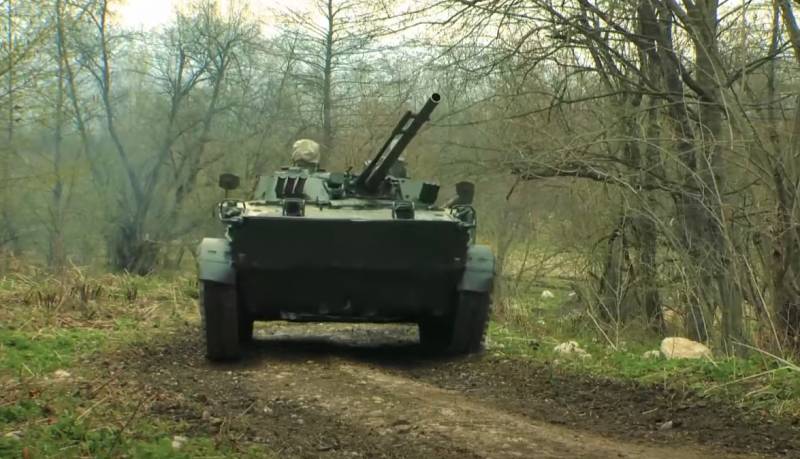 Almost any incident that has occurred in the Russian army is picked up and replicated by the Western press, which gets its hands on another "trump card" for discrediting the RF Armed Forces.
This time, a video that appeared on social networks was used as the "compromising material", which showed the breakthrough of the concrete wall surrounding the airport by a BMP-3 crew "with the participation of drunken Russian conscripts," according to The Drive (USA).
The incident, recorded by an external surveillance camera, took place in October this year at the Gumrak airfield near Volgograd. The combat vehicle penetrated the perimeter, partially damaging the security system.
Subsequently, photos appeared on social networks, which showed a broken wall, as well as a man in military uniform, presumably the driver of an BMP-3, with cuts and abrasions on his face and handcuffed hands.
Over the years, many horror stories have been revealed about brutal hazing and the generally toxic environment within the Russian armed forces for conscripts, especially in the initial stages of service and basic training. Alcohol and drug abuse reports are very common
- writes the American press.
However, as the newspaper points out, incidents similar to those described at the airport are also found in the American army. For example, in 2018, National Guard lieutenant Joshua Philip Yabut, under the influence of drugs, hijacked an M577 armored command vehicle and drove it around Blackstone, escaping from the police. He was charged with drunk driving, evasion of criminal liability and unauthorized use of military equipment, but in 2019 was found not guilty due to insanity.
One can only guess what will happen to the Russian conscripts who participated in this dramatic invasion of the territory of Volgograd International Airport.
- the American press notes.