A new modification of the Russian strategic bomber Tu-95 is capable of extending the life of this venerable machine, which has become obsolete.
Chain of updates
This opinion was expressed by the Italian edition Analisi Difesa, which came out with the material "Long live the Bear" [designation Tu-95 in NATO]. As it notes, work on improving the bomber has been going on since December 2009. The first flight was made only on August 22 of this year. During this time, the appearance of the car has undergone a number of fundamental changes.
Modernization of the Medved primarily includes the improvement of the NK-12MPM engine and the placement of new AV-60T propellers, which will increase the aircraft's service life and improve its take-off and landing characteristics.
A completely updated weapon system was developed, integrated with a new complex of on-board electronic equipment, with a new radar with a phased array "Novella-NV1.021" (which replaces the old type "Obzor-MS"), with an air defense system "Meteor-NM2" and with a cockpit equipped with an SOI-021 information display system.
The navigation accuracy has significantly improved due to the new ANS-2009 astronavigation system, the NVS-021M computerized navigation system and the KSU-021 integrated control system.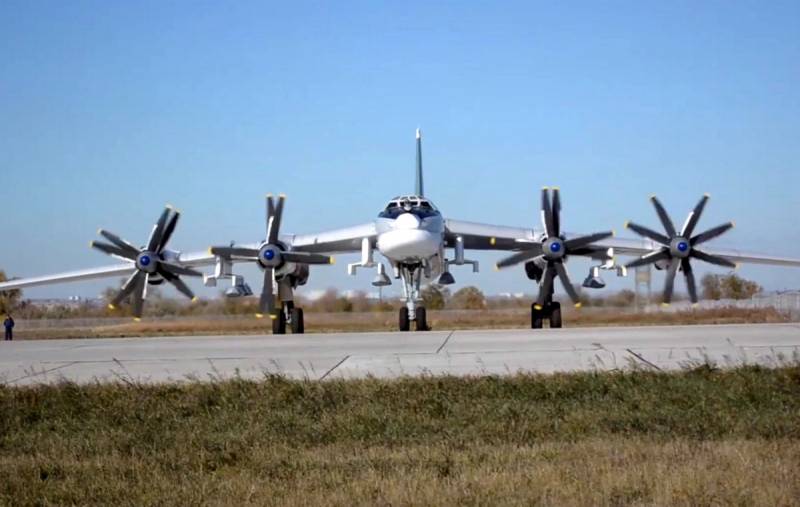 "Bear" is still full of strength
[There was] an imminent increase in military capabilities through the adoption of new weapons systems
- writes the Western press.
Due to the installation of external pylons (which required a significant strengthening of the wing structure), the new Tu-95MSM will be able to carry up to 8 new strategic cruise missiles Kh-101 (conventional warhead) or Kh-102 (nuclear warhead with variable power from 250 kilotons to 1 megaton). both with a maximum firing range of 5000 km.
It is very likely that the bomber's armament will be expanded by adopting the Kh-50 medium-range cruise missile weighing more than 1500 kg and with a flight distance of 1500 km.
The X-50 is a more suitable alternative for medium distances [X-101]
- explains Analisi Difesa, pointing out that the bomber will be able to carry up to 14 missiles of this type, 6 of them on external pylons.
With this latest and radical upgrade, the Tu-95MSM is likely to fly for at least the next 20 years. This is a remarkable achievement for the aircraft that first took off in 1952. It is still full of energy, so the program of its renewal turned out to be a justified step, despite the obvious conceptual obsolescence.
- concludes the publication, welcoming the modernization of the aircraft.