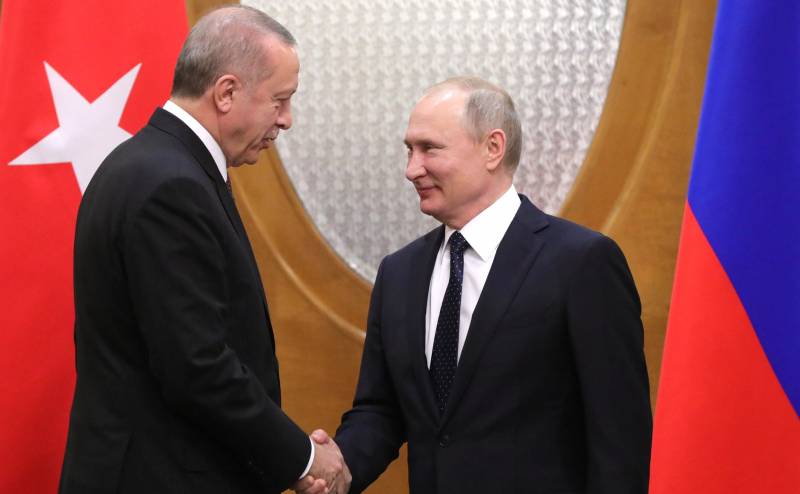 Presidents of Russia and Turkey
The journalists asked the Vice-President of Turkey Fuat Oktay whether such a moment can come in the armed conflict between Armenia and Azerbaijan in Karabakh, after which the Russian Federation will definitely take one of the parties. At the moment, Russia is trying to act as a neutral state, a mediator, advocating an early cessation of hostilities on its southern borders.
Turkish Vice President's answer to the question asked:
We hope that the conflict will not escalate to the extent that Russia intervenes. Our political leaders are in constant contact. We cooperate with Russia on all major issues. The channel for the exchange of views between Presidents Recep Erdogan and Vladimir Putin operates in a 24 by 7 format.
Fuat Oktay noted that there are some issues on which Ankara and Moscow have "slightly different positions," and immediately added:
But we have much more areas in which we cooperate, in which we can work and work together.
The Vice President of Turkey recalled Ankara's "unequivocal position". According to him, it lies in the fact that Turkey is ready to provide Azerbaijan with any assistance, including military, at the request of Baku. At the same time, Oktay noted that "he hopes that no third country will interfere in the conflict."
Oktay was also asked about Ankara's position on the Cyprus problem. The Turkish vice-president noted that Ankara is ready to consider the scenario of the federalization of Cyprus - "so that the interests of its Turkish population are also taken into account."