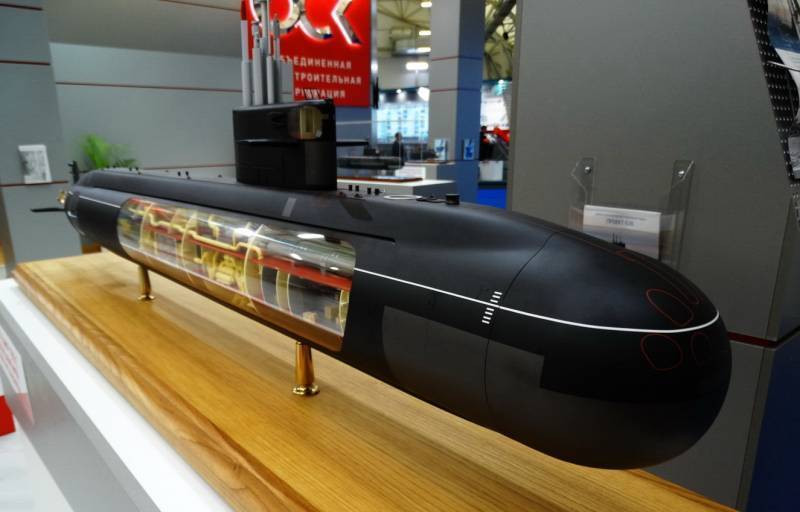 The fifth generation non-nuclear submarine Kalina under development will be of low tonnage. This is stated in the annual report of the United Shipbuilding Corporation (USC).
The fifth-generation Kalina nuclear submarine project was numbered 777A, according to the USC report, it is designing a small-tonnage submarine of the Kalina 777A project. In addition, the corporation continues work on technical re-equipment in order to create the production of systems, component equipment, devices and mechanisms for the non-nuclear submarine Kalina.
In early September of this year, the head of the USC, Rakhmanov, said that the corporation continues to work on the fifth generation submarines of the Kalina nuclear submarine and the Husky nuclear submarine. At the same time, he stressed that the work is being carried out on an initiative basis.
Nobody canceled these projects. We are continuing to develop them as part of what can be done proactively. There was part of the work that was paid for by the Ministry of Defense, part of the work is now continuing on its own initiative
- said the head of USC.
The Kalina submarine is being created to replace the Varshavyanka diesel-electric submarine currently in service. The submarine is being developed by the Rubin design bureau. The submarine should receive an air-independent power plant, at what stage the work on this topic is still not reported.
In 2017, it was reported that the program for the construction of fifth-generation non-nuclear submarines was included in the state armament program. Development work on Kalina should be completed by 2025.