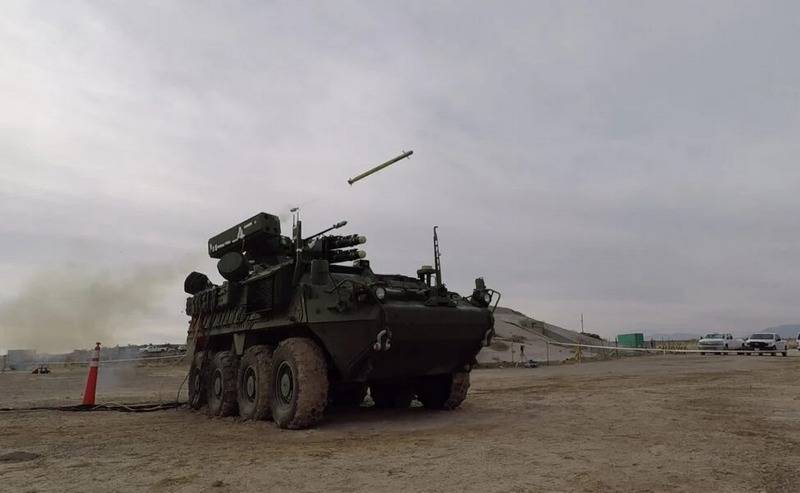 A video of testing a short-range air defense system - Interim Maneuver-Short-Range Air Defense (IM-SHORAD) - has appeared on the Web. The video was posted on its YouTube channel by General Dynamics Land Systems.
Tests were reportedly conducted earlier this year, with the military testing the main weapons of the IM-SHORAD, including Hellfire, Stinger missiles and a 30mm cannon.
On October 2, the US Department of Defense signed an agreement with General Dynamics to supply the American army with a new maneuverable air defense system based on the Stryker armored personnel carrier. As part of the signed contract, the company begins pre-series production of new IM-SHORAD combat vehicles.
The deadline for the contract is September 30, 2025, the total number of ordered cars has not been reported. It is known that at the first stage, funds are allocated for the production of 28 machines with subsequent renewal. Earlier it was announced plans to supply up to 144 IM-SHORAD systems.
The IM-SHORAD complex is installed on the Stryker platform. The reconfigurable integrated weapons platform (RIwP) can carry four Stinger MANPADS and two Hellfire anti-tank missiles. The module is also equipped with a 30-mm automatic gun M230LF with a coaxial machine gun. To detect targets using a hemispherical radar manufactured by the Israeli company Rada. The system can interact with air defense systems and Blue Force Tracker, a system of field identification "friend or foe".
IM-SHORAD is designed to counter both unmanned aerial vehicles and enemy helicopters and aircraft on the march and in the field of deployment. New mobile air defense systems should fill the possible shortage of air defense and missile defense systems.