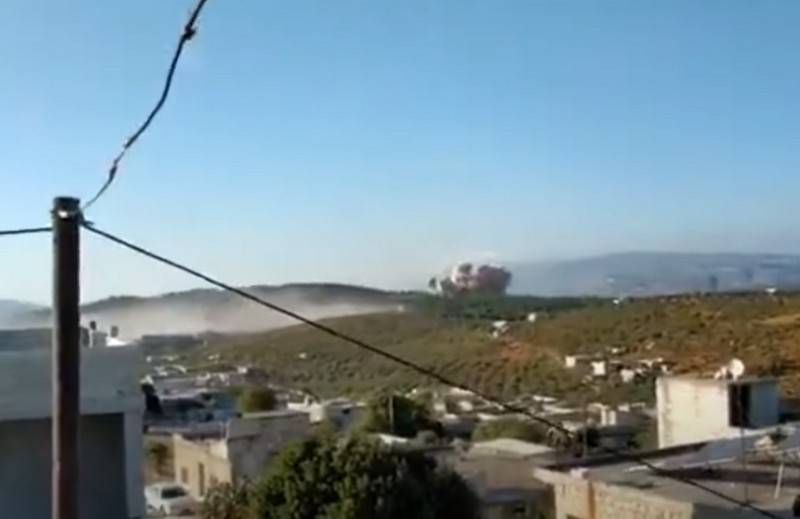 A video of the Russian Aerospace Forces strike on a militant camp in the Syrian province of Idlib has appeared on the Web. The video was posted on its YouTube channel by "Russian Spring".
As stated in the description for the video, the camp is allegedly training militants to participate in the conflict in Nagorno-Karabakh. The camp was struck by two Su-34 bombers and two front-line Su-24M bombers. Seven objects of the camp were hit, including a command post, shelters and disguised militants' equipment. The Syrian opposition accused the Russian Aerospace Forces of striking civilians.
Russian Aerospace Forces launched an airstrike in the Kafer Dibin region (24 km west of Idlib) in Idlib province. The airstrike killed two civilians and injured thirteen
- said in the message of the opposition television channel Halab Today TV.
According to a source of the publication, some time ago, intelligence received detailed information about a large training camp of militants, located 2 kilometers from the village of Kafer-Dibbin. After observing the camp and recording the conversations of the militants, it was decided to strike at the camp.
It is reported that on the territory of the camp, under the leadership of Turkish instructors and representatives of PMCs, militants from pro-Turkish groups are being trained. In the course of training, the militants receive the specialties "ATGM operator", "driver-mechanic" and others.
It should be noted that information about preparations for the transfer of Syrian militants to Nagorno-Karabakh has appeared more than once. Armenia blames Turkey for this, Ankara and Baku deny the participation of Syrian militants in the armed conflict.