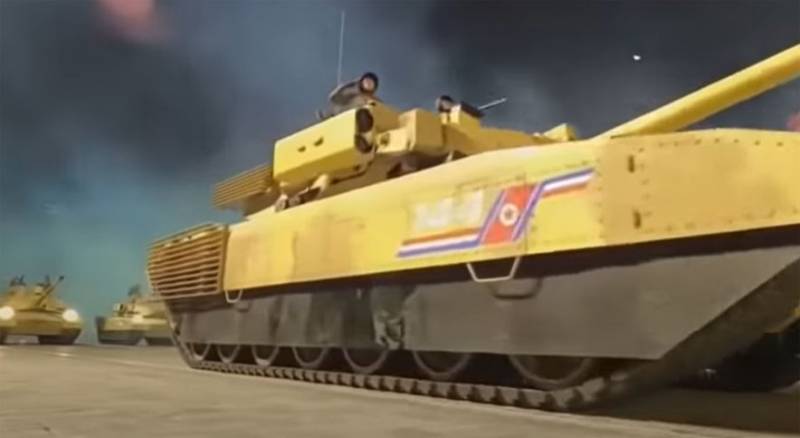 The American analytical publication The National Interest published an article by columnist Caleb Larson, dedicated to the new main battle shown at the parade in Pyongyang the other day.
tank
North Korea. Even its name is unknown.
From the footage from the video, the author came to the conclusion that this is most likely another version of the old Soviet T-62, on the basis of which all the tanks of North Korea were created. The author came to this conclusion, despite the presence of obvious differences, including such as the number of rollers.
It is noted that the designers are unlikely to go to the creation of a completely new machine. The author believes that the tank was given "new angular and modern contours of the hull and turret of this new platform", which make it look like the same "Abrams". Probably, it was able to give it some of the elements and functions that tanks such as the American M1 Abrams or the Russian T-14 Armata tank have. But in principle, by design, it is still not a tank created from scratch.
The relatively compact size of the tank and its lower weight are noted against the background of the 70-ton M1 "Abrams", which is explained by the conditions of the terrain where lighter vehicles have advantages. Judging by the picture from the parade, the main gun is possibly smaller than the 120mm gun of the American vehicle. According to the author, the tank may have a 115 mm gun, and the lack of power due to the smaller caliber may be partially compensated by the longer barrel. But this does not necessarily mean increasing the effectiveness of the gun. A pair of anti-tank missiles have been noticed on the right side of the turret, which may be replicas or variants of an older Soviet-designed anti-tank missile.
Caleb Larsen doubts that the tank has the latest composite armor, although this is difficult to confirm or deny. But, in his opinion, North Korea would like observers to think that this is so. The rear of the turret and hull is covered with armor plates to minimize damage caused by high-explosive anti-tank ammunition. But this ammunition is not modern, although it can be quite effective.
The author was surprised by the sandy camouflage of the armored vehicle. This camouflage is clearly not for North Korean conditions. In this regard, the question arose about the area where Pyongyang is going to use such tanks.
In general, there is still little information about the new DPRK tank. It is not even known whether its serial production has begun or is it just a prototype for demonstration at the parade.