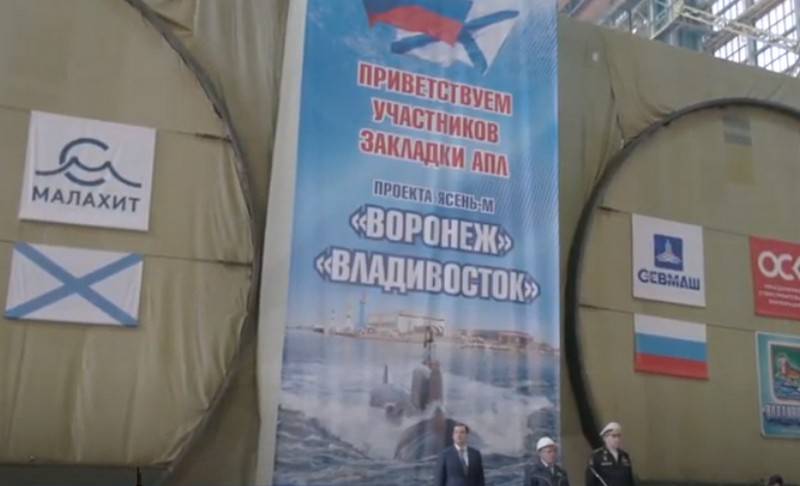 Russian nuclear submarines will begin to build according to a new method. According to the press service of "Sevmash", the company is introducing a block-modular technology for building nuclear submarines.
The technology being introduced involves the assembly of submarines from large blocks loaded with equipment. The block-modular method is to replace the modular-modular method used at Sevmash, which was introduced during the construction of the third generation nuclear-powered ships. Using this technology, ready-made, but not yet tested, block sections of the future submarine arrive at the slipway, where blocks are formed from them. After that, the formed block passes the stage of hydraulic tests and the sections are again separated.
Modular-modular technology significantly lengthens the construction period of nuclear submarines in comparison with modular-block technology. The introduced method not only significantly reduces the construction time for nuclear submarines, but also makes it cheaper, since a significant amount of work is carried out in specialized workshops before the blocks are fed to the slipway for final assembly.
In 2016, under the leadership of General Director of Sevmash Mikhail Budnichenko, initiative studies of a new technology for the construction of nuclear submarines were started. A working group was created with the participation of submarine designers. Within the framework of the USC, a project was opened to create a block-modular method and the transition to the construction of new generation boats using this technology
- said the project manager, head of the PKB bureau, Alexander Spiridonov.
Currently, Sevmash is modernizing production facilities and infrastructure to introduce a new method of building nuclear submarines. Also, the new technology is being discussed in the relevant departments.