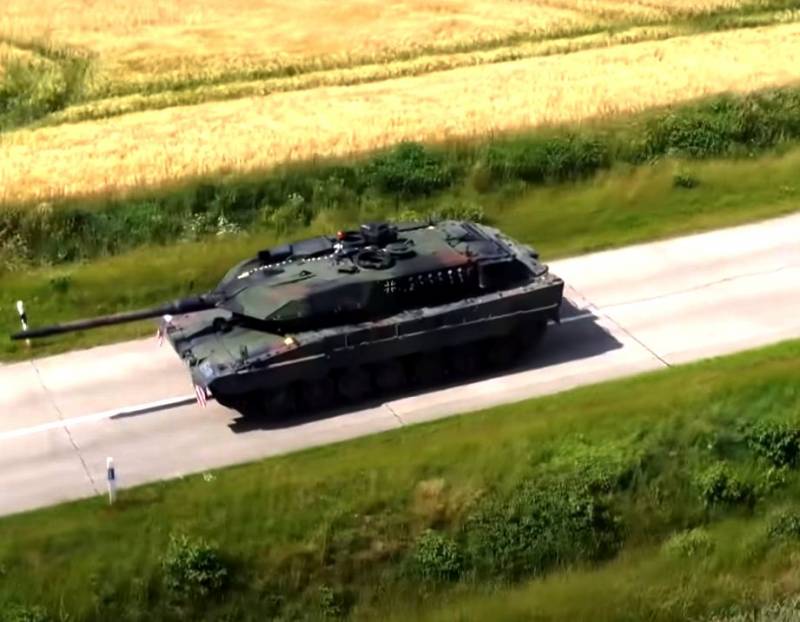 The German army has tested the new Leopard 2A7V main battle tank. Testing took place at the Bundeswehr Technical Center in Meppen and was filmed.
As you know, Leopard 2A7V is an upgraded version
tank
Leopard 2A6, recently considered one of the best main battle tanks in the world and competing with the American M1A2 Abrams, British Challenger 2 and French Leclerc. The previous version of the "Leopard" is in service not only with the Bundeswehr, but also with the ground forces of Finland, Spain, Portugal, Greece, Canada.
Three years ago, Rheinmetall announced the start of a main battle tank modernization program, the implementation of which would bring the tank closer to the most modern standards and provide it with one of the most worthy places in the world tank market. The program to improve the tank included installing the latest software, improving the quality of armor protection, increasing armor-piercing capabilities and firepower of the vehicle.
What is the latest modification of a German armored vehicle? First of all, it takes into account all the features of modern tank warfare, including the use of tanks in local conflicts and urban battles. The design of the Leopard 2A7V is similar to the 2A6 tank. The tank's crew consists of four people - commander, driver, gunner and loader. The engine compartment of the tank is fenced off from the crew compartment by a fireproof partition.
The tank is powered by an MTU Mb 873 ka 501 diesel power plant capable of producing over 1,5 thousand horsepower. On the road, the new version of the "Leopard" is capable of accelerating to 68 km / h. The mileage of the tank before overhaul is more than 10 thousand kilometers.
The tank is armed with a 120mm Rheinmetall L / 5 cannon, capable of firing the latest DM53 Rheinmetall DM53 - Tracer (APFSDS-T) armor-piercing projectile. The firing range is 1600 meters, while the tank has the best characteristics in terms of penetration of enemy armor when compared to most other modern main battle tanks.
Additional armament for the Leopard 2A7V includes a 3 mm Rheinmetall MG7,62 machine gun mounted to the left of the main gun. You can install another additional 7,62mm machine gun on the turret near the loader's hatch. The undoubted advantage of the tank is the mine protection of the hull, significantly strengthened compared to previous versions. Added third generation Attica thermal imaging units.
And here is the official video of the latest tests of the new version of the main battle tank:
According to the plans of the German military department, by 2023, the Bundeswehr should receive 104 such tanks. The first serial modernized "Leopards" will go into service next year. In addition to the Bundeswehr, by 2022, 44 modernized tanks should receive the Danish ground forces. It is possible that in the foreseeable future there will be new buyers of the main battle tank, primarily from among the FRG's allies in the North Atlantic Alliance.