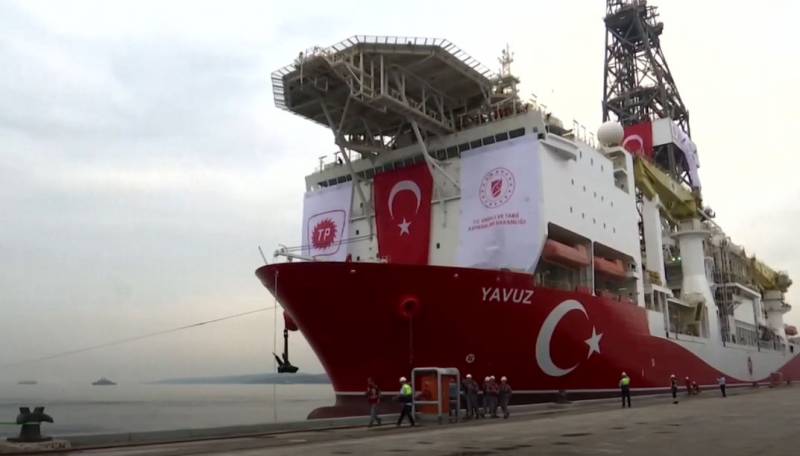 The drilling vessel Yavuz, owned by Turkey, has left the Cyprus Maritime Economic Zone. Before that, it was located southwest of the coast of the island.
This was announced by Al Arabiya TV channel. According to Refinitiv Eikon shipping, it reached the coast of Turkey.
This step is undoubtedly a factor contributing to the reduction of tensions in the eastern Mediterranean.
According to the newspaper Yeni Safak (Turkey), the Turkish research vessel Oruc Reis, which left the area in mid-September, has completed maintenance in the port of Antalya and is ready to start work if such appears.
Ankara started drilling wells for oil and gas production near Cyprus last year. The Turkish vessel Yavuz began work in July 2019. Yesterday it left the area southwest of Cyprus. Today, according to the tracking data, it was seen near the port of Tasuku in the Turkish province of Mersin.
It can be assumed that Ankara's concessions in the Eastern Mediterranean will help "untie her hands in the Caucasus," where she is supporting Azerbaijan in its conflict with Armenia. Turkey is accused of its aircraft and drones participating in hostilities in Nagorno-Karabakh on the side of Baku, as well as the fact that 150 of its officers are actually directing the combat operations of the Azerbaijani army.
We will remind that earlier Cyprus called for the introduction of sanctions against Ankara precisely because the Turks are active in the Eastern Mediterranean - trying to organize the production of hydrocarbons on the shelf. If Ankara's decision "calms" Cyprus, then Turkey can even more actively begin to act in the South Caucasus without fear of sanctions from the EU "based on the position of Cyprus."