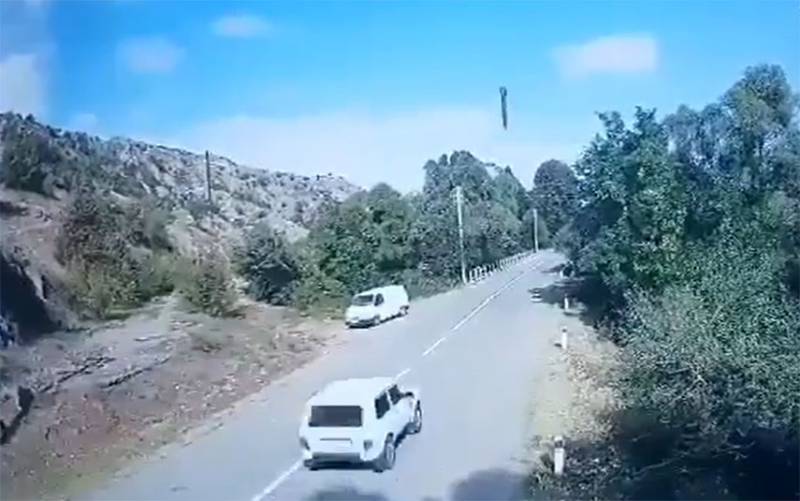 Shot with the final stage of the rocket trajectory
One of the episodes of the armed conflict between Azerbaijan and Armenia is being actively discussed. This episode concerns the attack by Azerbaijani troops on the bridge over the Akar River, which actually connected Armenia with Nagorno-Karabakh. Earlier it was announced that the Azerbaijani side used some high-precision weapons.
The storyboard of the video that appeared on the network gave the experts a reason to come out with the version that the Azerbaijani Armed Forces decided to use an operational-tactical missile system. We are talking about short-range OTRK "LORA" (LORA). And the bridge is supposed to have been attacked by a missile of this complex, which Azerbaijan acquired at one time from the Israeli company IAI.
The Israeli LORA missiles are primarily intended for the destruction of infrastructure facilities. The bridge is one of such objects, and it is of great importance for communications between the territory of Armenia and the unrecognized republic of Nagorno-Karabakh.
Attention was also paid to the use of a ballistic missile by Azerbaijan in the west. Thus, the Western observer Joseph Trevithick notes that if the version of the use of "Laura" is confirmed, then this will be the first combat use of this operational-tactical missile system.
According to data from open sources, Azerbaijan has an arsenal of about fifty missiles for OTRK of Israeli production.
Western experts note that Azerbaijan also has the Tochka-U system, but the use of the Israeli OTRK in this case is explained by the fact that its missiles are more accurate. The average deviation of the LORA missile from the target is no more than 10 m. The ability to use a high-explosive fragmentation warhead can effectively destroy targets such as a bridge.
VIDEO:

Footage of a bridge being hit on the road connecting Armenia and Nagorno-Karabakh near Asagi Sus. pic.twitter.com/AXgJvzEhp0

- FJ (@Natsecjeff) October 2, 2020