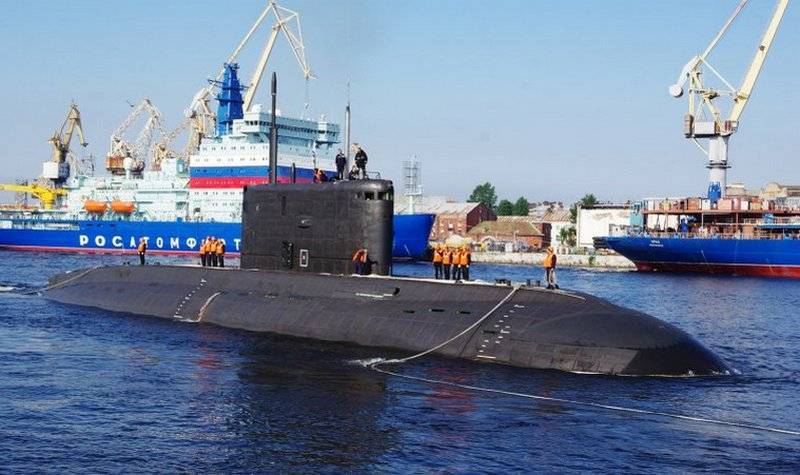 The first two "Varshavyanka" built for the Pacific
fleet
, will arrive in Kamchatka next year, 2021. This is reported by TASS with reference to a source in the shipbuilding industry.
Diesel-electric submarines "Petropavlovsk-Kamchatsky" and "Volkhov", built at the "Admiralty shipyards", will go to the inter-fleet passage from the Baltic to the Pacific Fleet in 2021. According to preliminary information, both submarines will pass along the Northern Sea Route. The passage of submarines can be combined with the next annual cruise of ships of the Northern Fleet along the Northern Sea Route, which traditionally takes place in the summer months.
At the same time, according to the source, it is possible that in the event of an operational need, both Varshavyankas can begin the inter-fleet passage earlier. In this case, they will go along the "southern" route: Mediterranean Sea - Suez Canal - Indian Ocean.
The diesel-electric submarines Petropavlovsk-Kamchatsky and Volkhov are the first and second submarines of the 636.3 Varshavyanka project out of six for the Pacific Fleet, the construction contract for which was signed by the RF Ministry of Defense and Admiralty Shipyards in September 2016. Both submarines were laid down on the same day - July 28, 2017.
The Volkhov is currently undergoing state tests and is preparing to be transferred to the Navy; Petropavlovsk-Kamchatsky entered the fleet in November 2019.
The third and fourth submarines, named Ufa and Magadan, were laid down at the Admiralty Shipyards on November 1 last year.