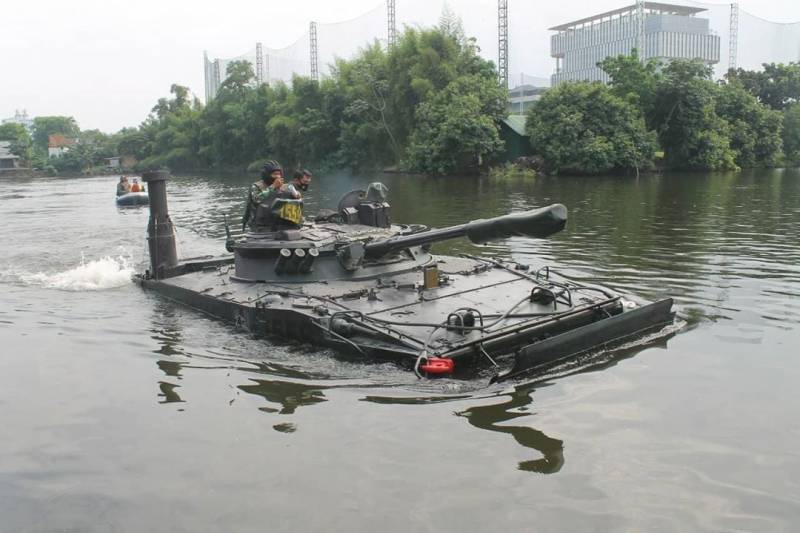 The BMP-3F, created to arm the Russian marines, serves along with the BT-3F armored personnel carrier exclusively for the benefit of Indonesia, and never entered the Russian Armed Forces. Jakarta appreciated the new technology and intends to equip the landing ships being built at local shipyards with it.
According to the Marine Corps, the Indonesian military is preparing to transfer the BMP-3F on board the new landing craft docks (LST) KRI Teluk Kendari 518 and KRI Teluk Kupang 519 of the Teluk Bintuni project. Each of them can accommodate 361 people. landing, 10
tanks
Leopard 2A4 or 15 BMP-3F infantry fighting vehicles.
In anticipation of the transfer of the BMP-3F to ships, they underwent additional tests, demonstrating the preservation of the hull tightness when moving in water with a strong current. Thus, the possibility of their unloading from the ship and subsequent movement to the coastline was confirmed.
At the same time, PT-76 amphibious tanks were tested, which continue to serve in the Indonesian Marine Corps and are considered one of its main weapons due to the insufficient number of alternative equipment.
Indonesia is the sole operator of the BMP-3F. On orders from 2009 and 2012, 54 cars were transferred to it. The 2019 contract provides for the supply of another 22 units.