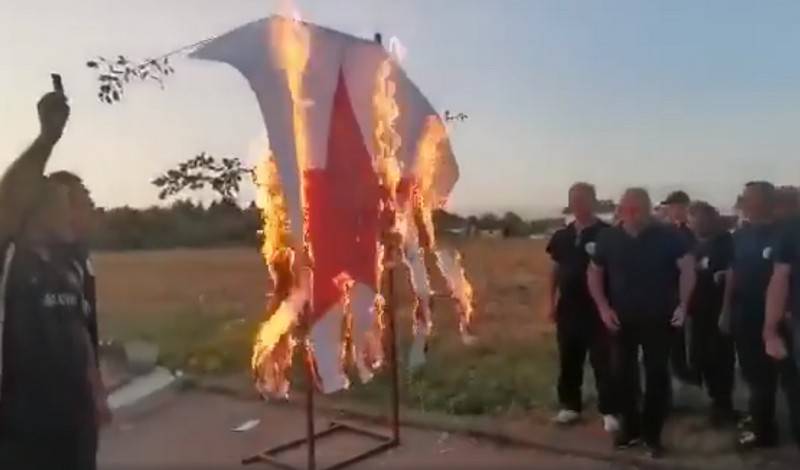 Former participants in the Balkan wars that followed the collapse of Yugoslavia held an action, showing their attitude to the five-pointed star. They arranged the burning of her stylized image as "a symbol of evil and the occupation of Croatia."
The event took place in Vinkovci next to a monument dedicated to forty residents of the village, who, according to the "veterans", were allegedly groundlessly killed by partisans from the 38th Macedonian and 21st Serbian divisions at the entrance to the settlement on April 13, 1945.
Candles were lit at the monument to innocent victims, and a red five-pointed star burned out
- explains the publication PDN.
As the "veterans" point out, the Council of the European Union recently issued a declaration prohibiting the glorification of totalitarian regimes, including communism:
We decided to set fire to the criminal five-pointed star in front of the monument to the victims of the partisan bullet and knife.
At the same time, the protesters are unhappy with the fact that after their announcement in the media about their intention to hold this event, the press refused to cover it:
We called the media, which, upon learning what we want to do, automatically refused and said that they should not and would not follow this.
- the former volunteers are indignant, pointing out that they are non-partisan.
We are very sorry that some patriotic symbols are prohibited, but the five-pointed star and cockade are not [...] The five-pointed star is a symbol of hatred, death, theft, murder of countless innocent people, for which the JNA [Yugoslav People's Army] and Serbian Chetniks with mercenaries are responsible
- explained the Croatian "veterans".
It is quite possible that, speaking of forbidden symbols, they mean the Ustasha swastika - Croatian fascists who considered themselves the descendants of the Goths and committed genocide against Serbs, Jews and Gypsies.