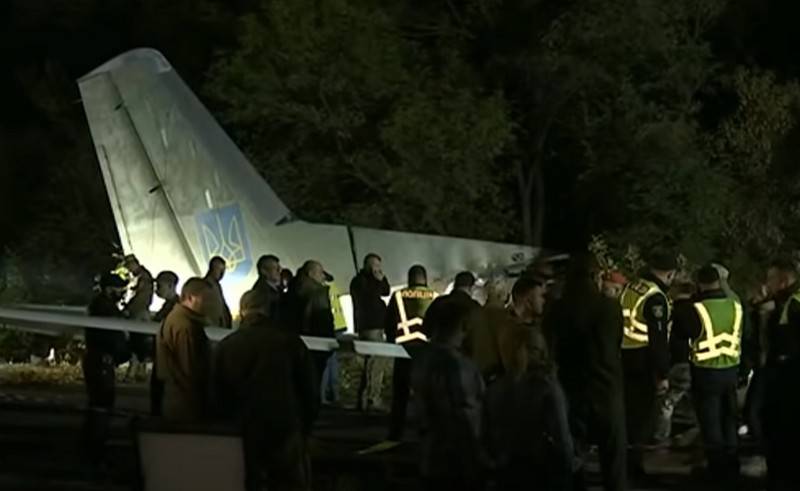 The preliminary reason for the crash of a military transport aircraft of the Air Force of the Armed Forces of Ukraine An-26 near Kharkov is a technical malfunction of the aircraft. This was stated by the Minister of Defense of Ukraine Andriy Taran.
Some kind of technical malfunction has occurred. What exactly, we will find out. I can't tell you anything about the exercises yet ... We will be able to give a preliminary estimate after decoding the black box
- he noted. The Ministry of Defense of Ukraine clarified that one of the sensors in the left engine of the aircraft failed during the flight.
At the same time, the State Bureau of Investigation of Ukraine (SBI) is checking four versions of the reasons for the plane crash, including: a disaster due to a technical malfunction of the aircraft's components; catastrophe due to improper performance of their duties by the crew; improper performance of official duties by persons who were responsible for flight control; inadequate maintenance of the aircraft and its preparation for flight.
The final cause of the crash will be determined after opening the black boxes of the plane. Both boxes have already been found, they survived, but they have not yet been removed from the remains of the aircraft.
Meanwhile, it became known that the An-26 plane that crashed near Kharkov was 43 years old, but in 2020 it was sent for repairs. Under the terms of the contract, the aircraft was to be repaired before October 1 of this year. What kind of work was carried out on the plane and whether it was carried out at all is not yet known.
On the day of the disaster, the An-26 made six take-offs and made five successful landings. In total, he had to make 10 flights. It is said that after each flight the aircraft was inspected by the engineering staff.
Recall that on board the crashed An-26 were 27 people, of which 7 officers and 20 cadets of the Kharkov Air Force University. During the crash, 25 people were killed, two were able to jump out of the plane, they were seriously injured and were taken to a medical facility. According to the press service of the State Emergency Service of Ukraine, at 10:50 (the same time as Moscow time) one of them died from his injuries.