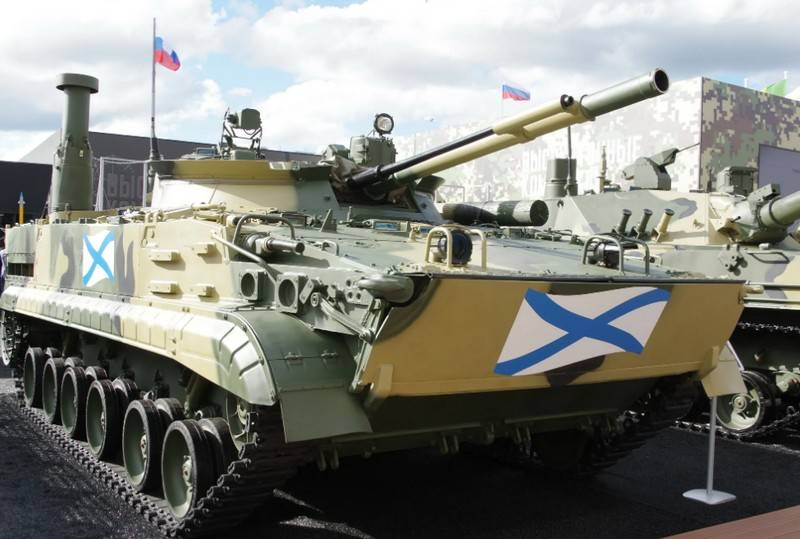 The Russian marines may receive the BMP-3F infantry fighting vehicles. The final decision will be made following the results of the Kavkaz-2020 strategic command and staff exercises. Reported by
"News"
with reference to sources in the Ministry of Defense.
The military department will make the final decision on equipping the marines with the BMP-3F after the KSHU Kavkaz-2020, during which the marines on the BMP-3F will act during the roleplaying of the episodes on the Caspian coast.
BMP-3F - "naval" modification of the BMP-3 infantry fighting vehicle, distinguished by greater buoyancy. It is equipped with a lightweight water-reflecting flap, a telescopic air intake pipe, and water-reflecting flaps on the tower. Able to move on water with waves of three points, and with 2 points to conduct aimed fire. The speed afloat is 10 km / h, with the engine running, it can be in the water for up to 7 hours.
It is assumed that the BMP will replace the floating
Tanks
PT-76, used during the Soviet army, but already withdrawn from service. Currently, only the BTR-82 is in service with the marines and there is no equipment with more powerful weapons. Recently, the marines began to be armed with tanks, but they cannot be used at the first stage of the landing when seizing a bridgehead, they operate only on the ground. At the same time, the BMP-3F carries a 2-mm caliber 70A100 cannon capable of hitting armored vehicles and sheltered targets.
Note that although the BMP-3F was developed about 10 years ago, it is not in service with the Russian army, a certain amount of equipment is in trial operation. The only country that has adopted the BMP-3F into service is Indonesia, which purchased 2009 BMP-2012Fs in 54 and 3 and entered into a new contract in 2019 for 22 BMP-3Fs and 21 BT-3F armored personnel carriers, created on the basis of this BMP.