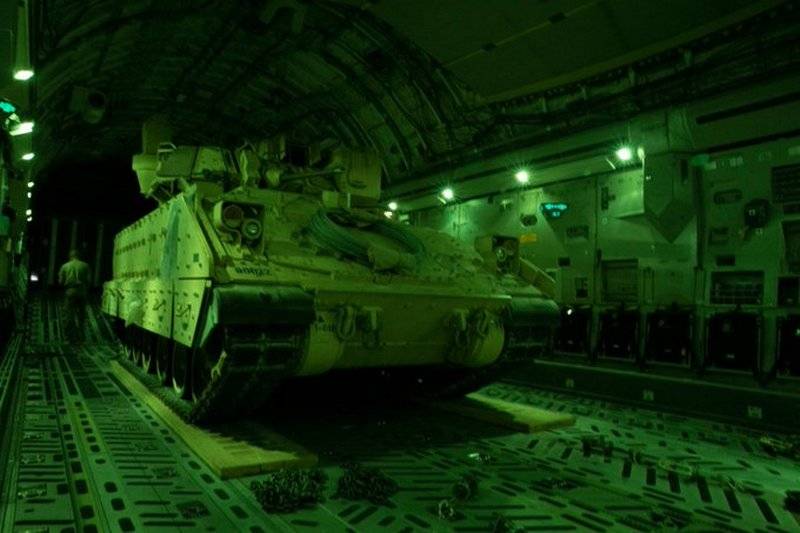 An international coalition led by the United States has deployed Bradley infantry fighting vehicles to northeastern Syria. This is stated in a statement by the spokesman for the coalition Wayne Marotto.
According to the statement, the military equipment was deployed to the north-east of Syria due to the difficult situation. Where the equipment was delivered from is not reported, most likely from neighboring Iraq. The last time the Pentagon flew the Bradley BMP to Syria in October 2019. Then it was stated that armored vehicles would help "defeat the remnants of IS (banned in Russia) and protect critical infrastructure."
Mechanized infantry technology will help protect coalition forces in an increasingly complex environment in northeastern Syria. Coalition forces remain steadfast in their commitment to securing the ultimate victory over IS
- declared Marotto.
In addition to the Bradley BMP, the Sentinel radar has been deployed to Syria. This was announced by the representative of the US Central Command (CENTCOM) Bill Urban. According to him, all this is being done to "ensure the security of the coalition forces."
Increased the frequency of air patrols over the location of the US forces. The United States does not seek conflict with any other country in Syria, but will defend coalition forces if necessary
- he added.
Earlier, US President Donald Trump said that American troops had left Syria and did not intend to return.
We left Syria, although I saved the oil. (...) And our troops are guarding the oil. And so we left Syria
- declared Trump.