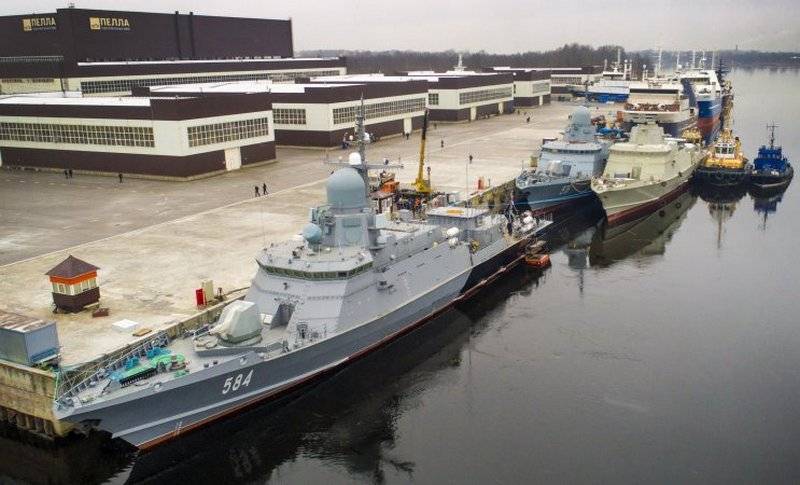 Small missile ship "Odintsovo" project 22800 "Karakurt" returns to the shipyard "Pella" in the Leningrad region after testing at the ranges of the North
fleet
... This was announced by the official representative of the Russian Navy, Captain I Rank Igor Dygalo.
According to the statement of the official representative of the fleet, quoted by Mil.Press FLOT, the Odintsovo MRK arrived at the Northern Fleet by inland waterways. At sea ranges in the North Sea, the MRK crew successfully tested weapons systems, after which they were sent to the Pella shipyard, where its construction took place. The ship will also make its way back along the inland waterways.
It should be noted that at the same time in the Odintsovo MRC of project 22800 Karakurt in the Northern Fleet, the Zeleny Dol MRK of Project 21631 Buyan-M and the patrol ship (corvette) of project 22160 Vasily Bykov were tested.
The return of RTOs to the shipbuilding enterprise is most likely due to the preparation of RTOs for transfer to the fleet.
RTO "Odintsovo" (laid down as "Flurry") - the third in a series and second serial ship of the 22800 Karakurt project, being built at the Pella Shipyard in the interests of the Russian Navy. At the same time, Odintsovo is the first serial Karakurt, on which the Pantsir-M anti-aircraft missile-gun complex (SAM) is installed. No Pantsir-M air defense missile systems were installed on the main Mytishchi missile system and the first serial Sovetsk air defense missile system; they use 30-mm AK-630 artillery mounts.
RTOs of this project have a length of 67 meters, a width of 11 meters and a draft of 4 meters. Displacement - about 800 tons, cruising range - up to 2500 miles, autonomy - 15 days. The main armament - one PU UKSK (universal ship complex) 3S14 RK for 8 KR "Caliber", one 76-mm gun mount AK-176MA, ZRPK Pantsir-M, two 14.5-mm or 12,7-mm machine gun MTPU.