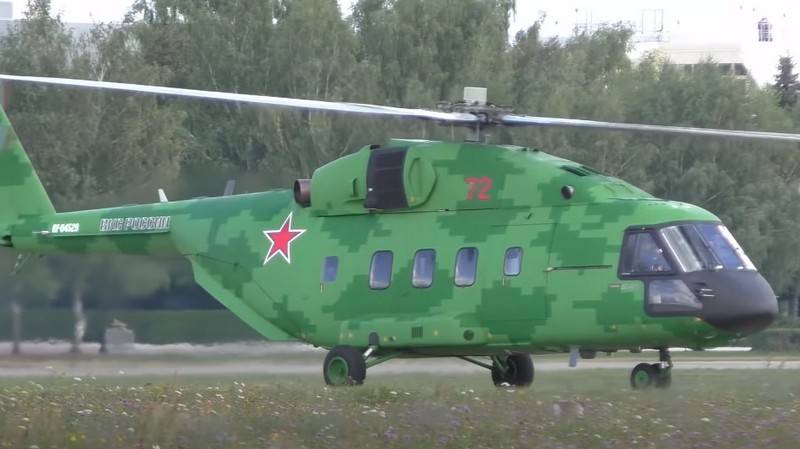 On the basis of the new military transport helicopter Mi-38T, new modifications are being developed, including an air command post and a helicopter with weapons. The director of the Mi-38 helicopter program Roman Kargin told about it.
According to Kargin, various options for using the new Mi-38 helicopter are currently being worked out, which is still positioned in the army as a military transport for the transport of personnel and cargo. The option of creating an air command post, as well as the Mi-38T version, for which preliminary applications have already been received, is being considered.
The fact that the Ministry of Defense ordered the development of an air control center based on the Mi-38T became known in March 2020. The creation of the new machine should be completed by the spring of next year, then sources in the military department said. The new air command post (VKP) based on the Mi-38 helicopter will be able to receive and process information on the course of hostilities in real time, coordinate the actions of different types of troops on the scale of a district or an interspecific grouping. The helicopter will be equipped with a modern control system, which one is not named.
Currently, the first two military Mi-38Ts are undergoing experimental military operation since 2019. A contract for two more helicopters was signed within the framework of the Army-2020 forum.
The Mi-38 medium multipurpose helicopter occupies a niche between the Mi-8 and the heavy Mi-26. The Mi-38T (Airborne) is the military version of the Mi-38. It is designed for round-the-clock airlift of personnel of up to 40 people with disembarkation to unprepared sites, evacuation of the wounded (up to 12 people in a recumbent position and up to 30 in a seated position, accompanied by two paramedics), transportation of goods weighing up to five tons in a cargo compartment or on an external sling.
The Mi-38T helicopter is equipped with new highly efficient TV7-117В domestic engines and an integrated digital flight-navigation system.
The flight range of the Mi-38T in the transport configuration is up to 1000 kilometers (with additional fuel tanks). The maximum take-off weight is 15,6 tons. The maximum speed is 300 km / h. Flights can be operated at altitudes of up to 6300 meters.