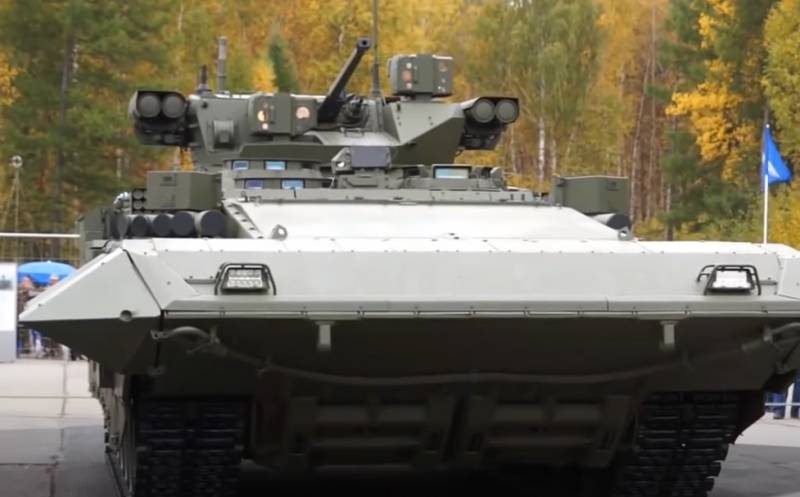 The new Russian T-15 Armata infantry fighting vehicle is better suited for military operations in the Middle East and Europe, as well as for the survival of the crew and troops, than similar equipment produced in the US and NATO countries. Therefore, it deserves no less attention than the T-14 tank.
Peter Suciu writes about this in an article published by the American edition of the National Interest.
The expert believes that the new BMP can play a significant role in equipping the modern Russian army. He believes that this is no less valuable acquisition for our Armed Forces than its "relative" - ​​the T-14 tank.
The main task of the heavy BMP T-15 is the transportation of personnel, because it can accommodate nine troops and three crew members. But at the same time, it cannot be compared with other infantry fighting vehicles. Rather, it is something between the BMP and the armored personnel carrier.
NATO does not have a single BMP comparable to this Russian vehicle. Probably, its analogue can to some extent be called the new Israeli heavy tank "Merkava", which is also capable of transporting personnel.
In other words, the T-15 is a BMP equipped with heavier weapons. It weighs 48 tons, that is, it is heavier than any Russian
tank
, except for the T-14. Actually, it should be so, because these two models of armored vehicles are created on the basis of a single tracked platform.
BMP T-15 "Armata" is armed with an automatic cannon 2A42 Shipunov caliber 30 mm, two twin launchers ATGM "Kornet", and a PKMT machine gun of 7,62 mm. The combat vehicle can use homing missiles to destroy systems of dynamic armor and active defense of the enemy, operating at a distance of 150 meters to 10 kilometers.
According to the expert, the new Russian BMP is a formidable force to be reckoned with.