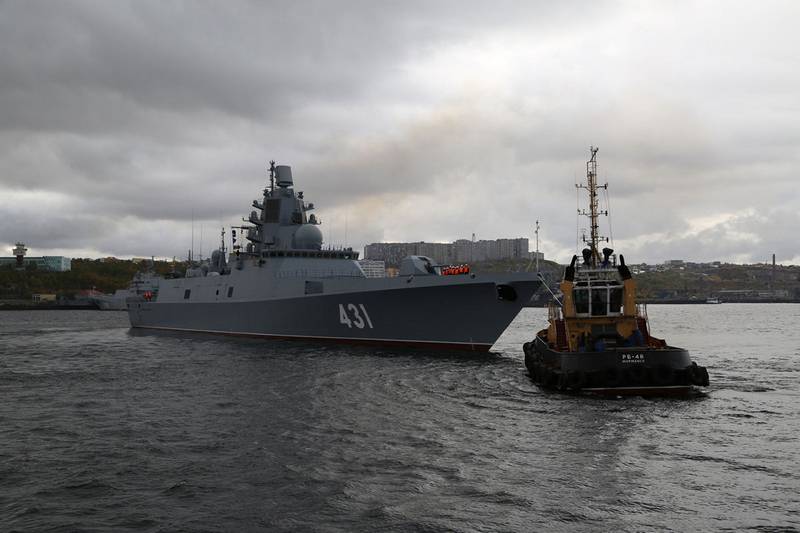 The first serial frigate of project 22350 Admiral
fleet
Kasatonov, "arrived at the Northern Fleet, having made an inter-fleet transition," the Defense Ministry reports.
Reportedly, on September 15 this year, at the main base of the Northern Fleet in Severomorsk, a solemn ceremony of welcoming the ship took place, in which the commander of the Northern Fleet, Vice Admiral Alexander Moiseev, took part. He congratulated the crew on the successful completion of the voyage and arrival at their home base.
According to the plans of the Northern Fleet command, the ship's crew will soon hand over the course task and prepare for the first voyage to the far ocean zone.
The acceptance certificate of the frigate Admiral of the Fleet Kasatonov was signed at the Severnaya Verf shipyard on July 15 this year. The solemn ceremony of raising the Andreevsky flag took place on July 21.
The frigate Admiral Kasatonov is the second ship of the 22350 project and the first serial after the lead frigate Admiral Gorshkov. Displacement of 5 thousand tons with a length of 135 m and a width of 16 m. The frigate is able to travel 4500 miles, while developing a speed of up to 29 knots. Autonomy of navigation is 30 days. The crew is from 170 people.
The frigate is armed with: 130-mm A-192 artillery mount, Poliment-Redoubt anti-aircraft missile system, launchers for 16 anti-ship missiles Onyx or Caliber, anti-submarine complex Package, anti-submarine helicopter Ka-27.