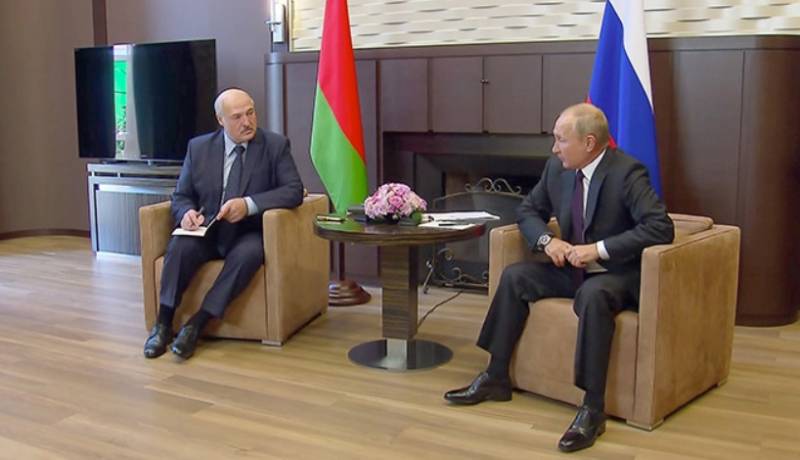 The Polish media are publishing materials dedicated to the meeting between Vladimir Putin and Alexander Lukashenko that took place in Sochi the day before. The large edition Rzeczpospolita publishes material, which the author called "Putin is condemned in Minsk."
"Condemnation" is connected with the fact that the Russian president received Alexander Lukashenko and once again (now at a face-to-face meeting) congratulated him on his victory in the elections. The opposition forces of Belarus continue to state about the facts of election fraud, not recognizing Lukashenka's legitimacy. At the same time, no lawsuits have been filed with the court regarding "massive falsifications" at the moment.
The publication points out that Lukashenko at the residence of the President of Russia Bocharov Ruchey tried with all his might to show his loyalty, calling Russia "big brother" and noting that what is happening in Belarus is "a lesson to all post-Soviet republics."
The article publishes a statement by the Belarusian political scientist Alexander Klaskouski, who is sure that Lukashenka has lost legitimacy not only in the eyes of the West, but also in the eyes of the Belarusian people. After that, Klaskovsky repeated the thesis expressed the day before in Lithuania by Svetlana Tikhanovskaya:
Any agreements concluded with him may be terminated after a change of government in Minsk.
And the day before in Sochi, the presidents of the two countries discussed the situation in Belarus and Russian-Belarusian relations for about 4,5 hours. Putin promised to provide Minsk with a considerable loan - $ 1,5 billion. Lukashenka declared the need for close economic integration.
Lukashenko:
The economy is at the heart of everything. And believe that we have always adhered to this line. But these events showed that we need to stay closer with our older brother and cooperate on all issues, including in the economy.
However, in the end, no agreements were signed.