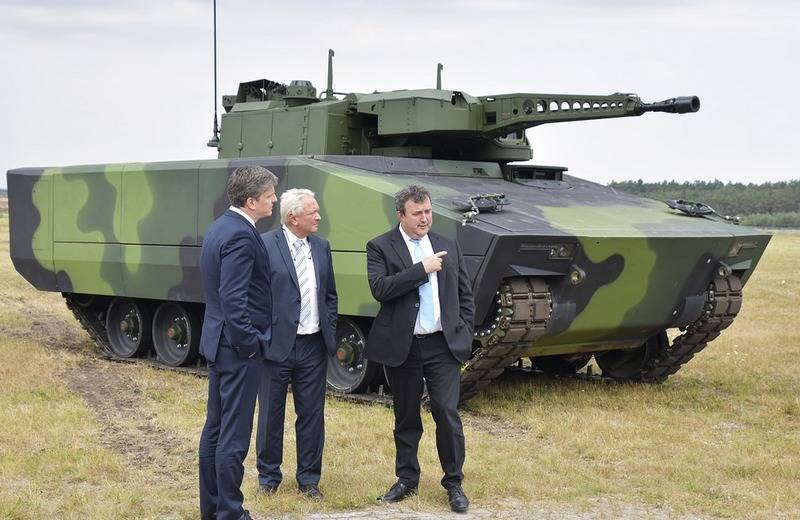 The Hungarian army will receive the German Lynx KF41 infantry fighting vehicles. According to the bmpd blog, citing the press service of the Rheinmetall group, the Hungarian Ministry of Defense has signed a contract for the supply of 218 new Lynx infantry fighting vehicles.
On the part of Hungary, the document was signed by the commander of the country's armed forces, Colonel-General Ferenc Korom, on the part of the Rheinmetall group - by President and CEO Armin Papperger. Under the agreement, Rheinmetall will supply Hungary with 218 new Lynx KF41 infantry fighting vehicles, nine Buffalo armored recovery vehicles on chassis
tank
Leopard 2, exercise equipment, and spare parts. In addition, the agreement includes training and instruction and maintenance. The cost of the agreement is more than $ 2 billion.
It is noted that in the version for the Hungarian Armed Forces, the KF41 Lynx BMP will be equipped with a LANCE manned turret with a 30-mm automatic cannon. The KF41 BMP has a capacity of 12 people - three crew members and nine paratroopers.
The supply of equipment is divided into several stages: in the first, by the beginning of 2023, 46 BMPs and nine ARVs will be delivered. The remaining 172 BMPs will be produced at the joint venture to be built in Hungary.
Recall that earlier Hungary signed a contract for the supply of new German MBT Leopard 2A7 + (Leopard 2A7HU) and 24 self-propelled howitzers PzH 2000 caliber 155-mm / 52. All equipment will be delivered in the period 2023-2025.