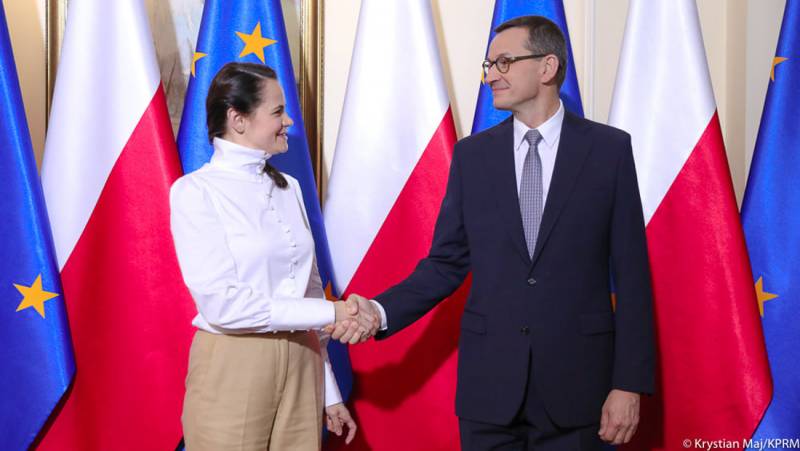 Photo: Tikhanovskaya and Morawiecki (by: Christian May, Polish Government Chancellery)
In the Polish media, there is an active discussion of the reception given by the authorities of the country to Svetlana Tikhanovskaya - the candidate who lost in the elections in Belarus. For the official Warsaw, Tihanovskaya not only "did not lose", but is also the "honest winner" in those elections. A corresponding meeting for her was organized, as in his time in the United States to the Venezuelan pseudo-president Juan Guaido. Let us remind you that Polish Prime Minister Mateusz Morawiecki presented Svetlana Tikhanovskaya with the keys to the so-called "Belarusian House" - a mansion where "Belarusian political forces in exile" can gather under Polish patronage.
Attention is drawn to the reaction of ordinary Poles to Tikhanovskaya's visit to Poland and how the country's authorities received her.
Let us present a few comments from readers of the Polish media (large edition Do Rzeczy). And these comments make it clear that the majority of Poles oppose this kind of contacts between high-ranking officials of Poland.
Morawiecki decided to warm the second snake on the Polish chest. The first was from Ukraine. Everything begins as it did then - the blind euphoria of the Polish authorities. Is it our fate to be ruled by narrow-minded people or foreign agents?
Mr. Morawiecki, maybe you should have given her the keys to the Seim (Polish parliamentary structure, - approx. "VO"). What kind of government policy is this when the authorities pay tribute to a baby who is going to usurp power? After all, until recently, no one knew anything about her.
But Poland no longer exists. Most of our citizens are just cheap labor for the European Union.
We have problems with the pandemic, we are trying to promote the ideology of LGBT people, it is difficult to get into offices and hospitals, and they create alternative structures of the Belarusian government. It looks the same as if an alternative Polish government was created in Germany.

Another comment:
In my opinion, it is better to help than to stand aside. The Poles would hate the authorities if they were indifferent to the fate of their neighbors. It is impossible to please everyone. I am for solidarity.
In general, Polish citizens are outraged by the fact that to this day there are many bans for them, there are difficulties with housing, medical care, and the state, for the sake of dubious interests, arranges "bridesmaids" for Belarusian oppositionists who do not look like independent figures.