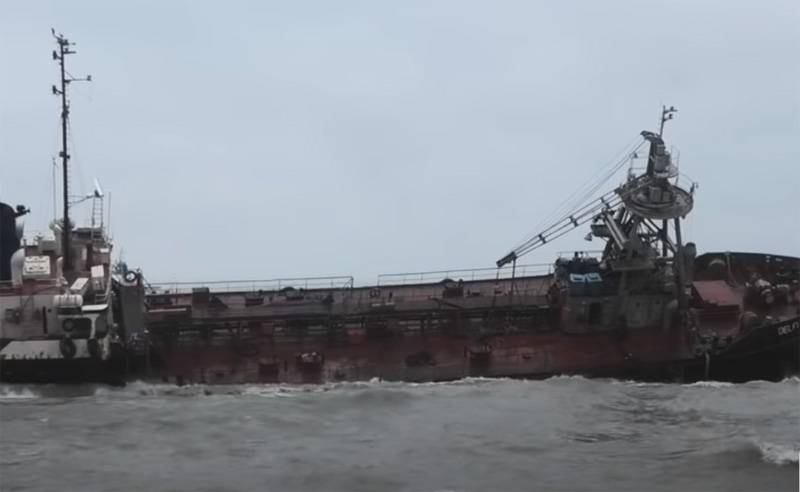 The Great Maritime Power Ukraine for the 4th time postponed the operation to lift the tanker. We are talking about the tanker Delfi, which sank in the immediate vicinity of Odessa. For several months the tanker has been lying on its side near one of the Odessa beaches. At one time, Vladimir Zelensky arrived at the place and, stating that it was a shame for the country, demanded that the tanker be raised as soon as possible and transported to the place of repair.
They immediately listened to the words of the President of Ukraine and organized a super-operation to lift the offshore oil tanker. But something went wrong, and the cables used broke twice when trying to align the position of the tanker. At the same time, impressive volumes of oil products flowed into the sea. After that, the operation was postponed several times.
The new postponement is due to the fact that meteorologists have identified "the unsafe operation against the background of a sharp deterioration in weather conditions." It is stated that the wind speed in the Odessa region per hour of the vessel's lifting operation will reach 14 m / s, the wave height will exceed 1,5 m.
Statement by Ukrainian weather forecasters:
"White lambs" appeared on the surface of the sea, which are the harbingers of an imminent storm.
Ukrainian experts add that the operation is postponed:
It is necessary to wait for complete calm.
At the same time, in Ukraine itself, they say that with the onset of autumn it is possible to wait for calm for a very long time, but never wait ...
The plans to lift the tanker include the use of a special pontoon, the role of which will be played by a lighter. The operation also involves the Atlas-4 floating crane. Initially, it is planned to pump out water from the inner compartments of the sunken tanker.
Of course, one can continue to ironic about Ukraine's unluckiness in raising a tanker, however, in our country there are situations that cause, at least, questions. One of these is the lack of work to raise the floating dock PD-50 in the Murmansk region. It sank on the night of October 30, 2018. Of course, lifting a giant floating dock is more difficult to accomplish than lifting a relatively small tanker, but Russia also has much more opportunities than Ukraine.