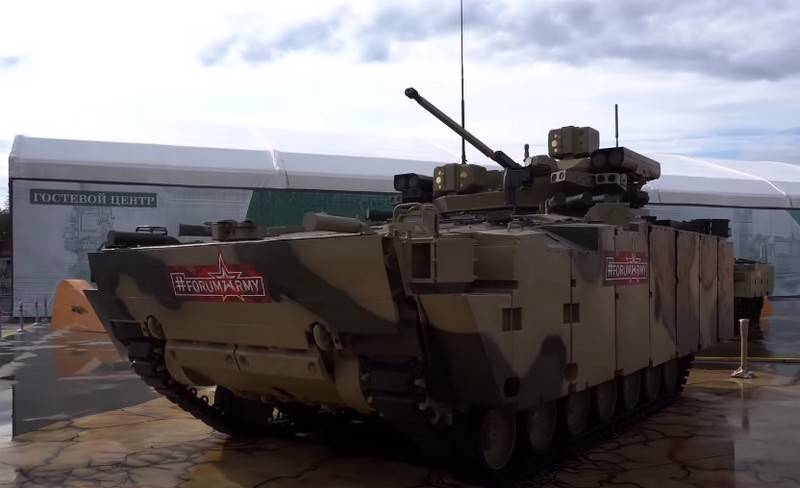 Russia's latest Kurganets-25 infantry fighting vehicle was to replace the thousands of Soviet infantry fighting vehicles in service with the Russian army. However, the delivery of the BMP has been postponed indefinitely due to the lack of funds for its development, writes Sebastien Roblin for the American magazine Forbes.
In his article, the American journalist writes that the Russian new BMP "Kurganets-25" was supposed to be produced by the BMP manufacturer "Kurganmashzavod" and to replace the existing fleet of infantry fighting vehicles still of the Soviet design of the Russian army, but the funds for the implementation of this ambitious modernization ran out due to Western sanctions and falling oil prices.
It looks like this platform has been postponed indefinitely. The manufacturer failed to provide the tactical and technical characteristics and the organization of mass production. For the foreseeable future, the BMP-3 will remain the main infantry vehicle and weapons platform, the purchases of which will continue
- the article says.
The BMP itself, the author notes, has "a lightweight Armata body and a remote-controlled turret." The vehicle also has "advanced detection devices and powerful anti-tank missiles." In terms of booking, the Kurganets-25 was supposed to be on par with Western models of infantry fighting vehicles. In the future, the Kurganets base platform was supposed to serve as the basis for a whole family of specialized vehicles, including for a lightly armored version of an armored personnel carrier with weapons, as well as for control vehicles, reconnaissance vehicles, armored recovery vehicles, for mortar transporters and anti-tank self-propelled units etc.
The development of this BMP, according to Roblin, faced many problems: the car was criticized for its large size, which led to the alteration of the BMP. Then the production of armored vehicles was postponed from 2017 to 2022.
The author emphasizes that the problems with the Kurganets are typical for Russia, which is hardly moving from the creation of prototypes to the serial production of new generation combat vehicles. Western sanctions, the coronavirus pandemic, which led to significant losses of funds and much more, also played a role in putting the project on the shelf.
However, in this sense, Russia is not a unique country; in the West, many projects have not been implemented for the same reason either. For the third time in two decades, the United States has relaunched a program to develop a new BMP to replace Bradley, spending more than $ 20 billion on this.
In conclusion, the author notes that while Russia has not received the new Kurganets-25 BMP, the troops will continue to receive modernized versions of the BMP-2 and BMP-3 infantry fighting vehicles, as well as developments based on them.