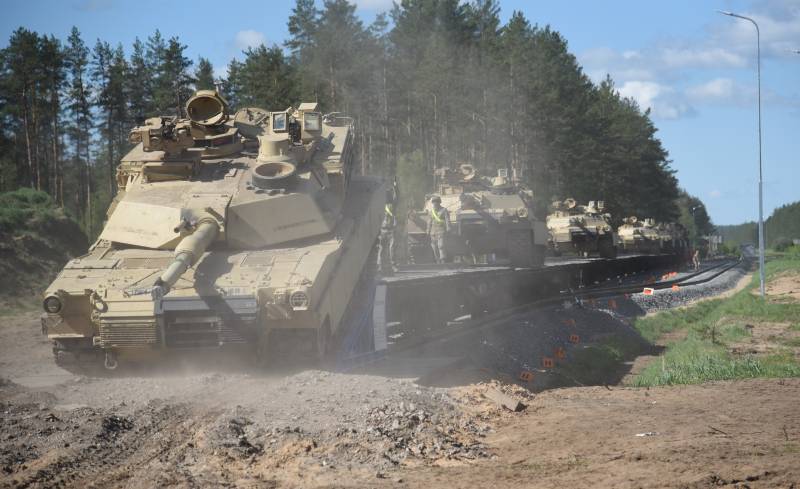 Gradually, the infrastructure of the countries located in the post-Soviet space is adapting to NATO's logistics chains, allowing the alliance's military equipment to be transferred to the borders of the so-called "Eastern Wall" - a security cordon that protects Russia on its western borders.
On September 4, an exercise started in Lithuania, in which American units were involved. The maneuvers involve the transfer of military equipment to the training ground located in Pabrade. This settlement is located at the very border of Belarus, which is considered by NATO as an ally of Russia (which, in fact, is the case, since Belarus and Russia are not only in the CSTO, but also in the Union State).
For the first time, heavy military equipment arrived here not by highway, but by rail. This became possible thanks to the completion of the construction of the new Pabrade - Paberže track in the spring of this year. This branch is used only for transporting troops. The other day, it was on it that American
Tanks
"Abrams" to the borders of the "Eastern Wall", which hastened to report the Ministry of Defense of Lithuania:
We greet our American brothers on Lithuanian soil! Troops from the 2nd Battalion, 69th Regiment, 2nd Brigade, US Army, arrived for a pre-planned exercise. Together we are strong.
The tanks descended from the railway platforms directly onto the ground.
In this regard, Alyaksandr Lukashenka's statements that the clanking of the tracks of NATO tanks can be heard in Belarus is not without meaning. American "Abrams" were transferred to the Belarusian border - the western border of the Union State of the Republic of Belarus and the Russian Federation.