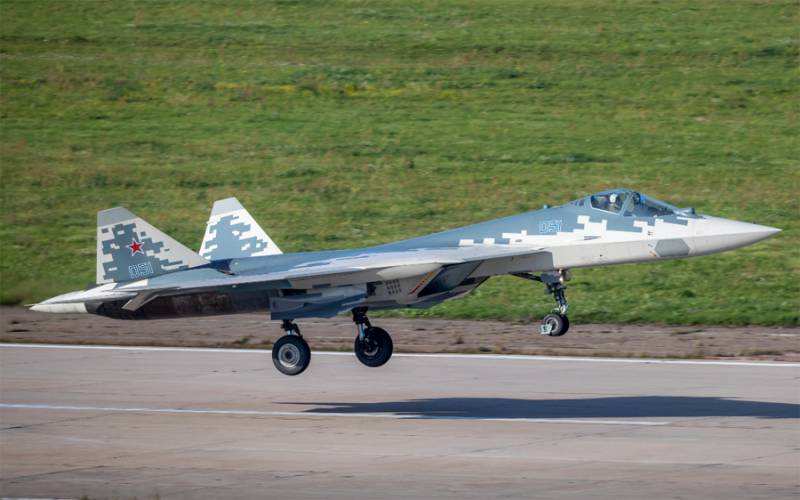 The Chinese press was very interested in a statement made by Anatoly Serdyukov, head of the Rostec aviation cluster, regarding the prospects for the Su-57 fighter. We will remind, Serdyukov said that the primary task today is to put the fifth generation fighter into service with the Russian Aerospace Forces. At the same time, the ex-defense minister added that there is an interest in acquiring the Su-57 from foreign customers.
Chinese reporter Xu Lumin writes that as soon as the Su-57 appears in service with the Russian Aerospace Forces, interest in it from foreign customers will increase dramatically. At the same time, the Chinese press are trying to figure out exactly which potential foreign customers Anatoly Serdyukov had in mind, declaring that they were interested in the Russian Su-57 fighter.
It is recalled that earlier Turkey showed interest in the new generation of Russian combat aircraft to a certain extent. When Ankara was excluded from the F-35 program, Turkish authorities "threatened" the United States to buy aircraft from "other suppliers." Then the conversation turned to the possible purchase of the Su-35 and Su-57 from Russia.
It was noted that China is also considering the possibility of purchasing the Su-57 in the "small batch" format. At the same time, Chinese experts do not hide the fact that the purpose of the acquisition may be a detailed study of the technologies implemented on the Russian fifth generation fighter. However, the Chinese side is primarily interested in the latest engines, and the first Su-57s are equipped with power plants of the so-called first stage, in which China is no longer interested.